Severe Community Acquired Pneumonia - Standard Treatment Guidelines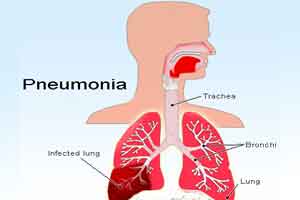 Community acquired pneumonia affects 2 to 3 million patients per year and carries high mortality of around 30% in severe cases. As life expectancy is increasing and many patients with chronic diseases like cardiac failure, COPD are living longer, incidence of community acquired pneumonia is increasing and distinction from hospital acquired pneumonia is getting blurred as these patients visit hospitals frequently.
Ministry of Health and Family Welfare has come out with the Standard Treatment Guidelines for Severe Community Acquired Pneumonia. Following are its major recommendations.
Case Definition
Patient usually presents with a constellation of respiratory symptoms like cough, purulent sputum and sometimes pleuritic pain associated with constitutional symptoms like fever, lack of appetite and myalgia. Chest x-ray revealing new infiltrate usually clinches the diagnosis.
Incidence of the condition
Community-acquired pneumonia is a major cause of morbidity and mortality, worldwide Lower respiratory tract infections, including CAP, were ranked third in a list of the 30 leading causes of death worldwide. About 4 million CAP cases occur annually in the US; with about 20% requiring hospitalization. High mortality trends observed in patients hospitalized for CAP (5-20%) and in CAP patients admitted in ICU (up to 50%). Overall mortality rate of CAP is about 7.3%.
Typical CAP- Sudden onset fever, chills, pleuritic pain, productive cough.Raised TLC, ESR, CRP. Chest x-ray shows diffuse patchy opacities. 60-80% produced by bacteria like -Strep pneumoniae, Staphylococcus, Kleibseilla, Haemophilus
Atypical CAP- The organisms: virus, mycoplasma, legionella, chlamydia psittaci, Coxeillaburnetii. Presentation: Preceding airway symptoms, myalgias, fever without chills, headache, unproductive cough. TLC, ESR, CRP are either normal or show a mild rise. Chest xray shows- diffuse, patchy or ground glass shadows
Assessment of Severity
This is a crucial step as it will help in identifying patient who are prone to get complication and should be admitted in intensive care unit.
CURB 65 is a useful mnemonic for this


Confusion


Urea > 20 mg/dl


Respiratory Rate >30/min


Blood Pressure Systolic <90 mmHg


Age > 65 years


Investigations
a. Investigations to be sent in all facilities
1. Complete Blood Count
2. CRP
3. Urea ,Creatinine
4. Liver Function Test
5. Blood Culture – Two sets
6. Prothrombin Time
7. Na, K
8. Sputum for microscopy, gram stain, AFB stain, fungal stain, cytology
9. Sputum for culture and sensitivity
10. Chest X-ray
11. ECG
b. Investigation to be done at a higher centre
1. Procalcitonin
2. Chest CT scan
3. Chest ultrasound
4. Bronchoscopy with lavage
5. Echocardiogram
6. Urine for legionella and pneumococcal antigen
7. Serology for H1N1, HIV, ANCA , Legionella
8. Nasal Swab for MRSA,Viral Panel
9. NT PRoBNP
10. Venous Doppler legs
11. D Dimer
Treatment: Initial Choice of Antibiotic
A detailed history should be taken to identify patients who are at high risk of drug resistant infection.


Previous hospitalization in 9 months


Previous antibiotic in 3 months


Comorbidity – steroid use, liver failure, renal failure, COPD


Cover common organisms responsible for pneumonia: both typical and atypical


Strep pneumoniae


Legionella


Staph aureus (MSSA)


Gram negative bacilli (non ESBL)


Hemophilus


Antibiotic choices in these patients
A beta-lactam (cefotaxime, ceftriaxone, or ampicillin-sulbactam) + azithromycin
OR
A beta-lactam (cefotaxime, ceftriaxone, or ampicillin-sulbactam) + a respiratory
Fluoroquinolone (levofloxacin or equivalent)
OR
For penicillin-allergic patients, a respiratory fluoroquinolone and aztreonam Additional organisms to be considered in patients at risk of drug resistantInfection
If ESBL or pseudomonas is a concern- Anantipneumococcal, antipseudomonal beta-lactam (piperacillin-tazobactam, cefepime, imipenem, or meropenem) + either ciprofloxacin or levofloxacin (750 mg)
OR
The above beta-lactam PLUS an aminoglycoside and azithromycin
OR
The above beta-lactam PLUS an aminoglycoside and an antipneumococcalfluoroquinolone
(for penicillin-allergic patients, substitute aztreonam for above beta-lactam)
If MRSA is a concern : Add vancomycin or linezolid. Availability of other cephalosporin with betalactamase inhibitors combination (Cefoperazone – sulbactam, Cefepime Tazobactam, cetriaxone-sulbactam) and Class 1carbapenem- Ertapenem can be used to cover ESBLs as per the hospital antibiotic policy andlocal antibiogram.
Duration of Antibiotic therapy : Duration of antibiotic should be individualized based on clinical response,type of organismbiomarker response, development of complications and comorbidities. Minimum five days of antibiotic is recommended. Prolonged antibiotics upto two weeks should be considered in selected cases like slow responders, pseudomonas and staph infection,lung abscess, empyema,metastatic infection.
Identification of Non-Responders
With appropriate antibiotic therapy some improvement in patients clinical course should be seen within 48 to 72 hours. This should be assessed clinically as radiographic resolution takes alonger time. For non- responders following conditions should be considered.
1. Organism not covered by empiric choice of antibiotic
2. Atypical organisms – Tuberculosis, strongyloidosis, meliodosis , H1N1 influenza etc
3 Complicated pneumonia- Lung abscess, empyema, obstruction, resistant organism
4. Nosocomial problem- secondary infection.
Differential diagnosis: Heart failure, cryptogenic organizing pneumonia (COP), Malignancy, Pulmonary embolism, Pulmonary eosinophilia pneumonia, Hypersensitivity pneumonitis, vasculitis –Wegners granulomatosis
Referral Criteria
Non-responders should be managed at a higher facility for appropriate workup.
CAP patients with shock, multi-organ dysfunction
Suggested Reading
1. Infectious Diseases Society of America/American Thoracic Society consensus guidelines on the management of community-acquired pneumonia in adults. Mandell, LA, Wunderink, RG. Clin Infect Dis 2007; 44 Suppl 2:S27.
2. BTS guidelines for the management of community acquired pneumonia in adults: update 2009. Lim, WS, Baudouin, SV. Thorax 2009; 64 Suppl 3
3. Canadian guidelines for the initial management of community-acquired pneumonia: An evidence-based update by the Canadian Infectious Diseases Society and the Canadian Thoracic Society. Clin Infect Dis. 2000; 31:383.
4. Recent advances in community-acquired pneumonia: inpatient and outpatient .Niederman MS Chest. 2007 Apr; 131(4): 1205-15.
Guidelines by The Ministry of Health and Family Welfare :
Subhash Todi, Consultant Physician and Intensivist, AMRI Hospital, Kolkata