Semaglutide -New once-weekly option for Type 2 diabetes approved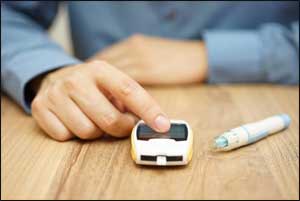 Endocrinologic and Metabolic Drugs Advisory Committee (EMDAC) of the U.S. Food and Drug Administration (FDA) approved once-weekly semaglutide to improve glycemic control in adults with type 2 diabetes.The FDA approved 2 doses of semaglutide, 0.5 mg and 1.0 mg, which will be administered in a prefilled pen. As part of its post-approval requirements, Novo Nordisk will conduct a pediatric trial in adolescents under age 18 and add semaglutide to the 15-year medullary thyroid carcinoma registry being kept for all long-acting GLP-1 therapies.
Semaglutide is an investigational analogue of native human glucagon-like peptide-1 (GLP-1) and, through its high albumin binding resulting in a long half-life of approximately one week, semaglutide is suitable for once-weekly dosing. Like other GLP-1 receptor agonists (GLP-1 RAs), semaglutide, administered once-weekly, stimulates insulin and suppresses glucagon secretion in a glucose-dependent manner.
The recommendation for approval was based on data from SUSTAIN, a comprehensive global development program that evaluated the safety and efficacy of Semaglutide, administered once-weekly. The global SUSTAIN Phase 3a clinical trial program comprised eight clinical trials (one of which was a 2-year cardiovascular outcomes trial), involving more than 8,000 adults with type 2 diabetes, including adults with high cardiovascular risk profiles, with and without renal disease.
Semaglutide produced clinically meaningful and statistically significant reductions in HbA1c compared with placebo, sitagliptin, exenatide extended-release and insulin glargine U100. Furthermore, in the trials, treatment with Semaglutide resulted in statistically significant reductions in body weight. Semaglutide demonstrated a safe and well-tolerated profile across the SUSTAIN programme with the most common adverse event being mild to moderate nausea, which diminished over time.
"Semaglutide has the potential to impact the lives of people with type 2 diabetes by helping to meaningfully reduce A1c. This treatment option may also help people lose weight," said Todd Hobbs, vice president and U.S. chief medical officer of Novo Nordisk. "We look forward to continuing to work with the FDA as they complete their review of semaglutide."
The NDA for once-weekly semaglutide was submitted to the FDA in December 2016 under the U.S. FDA's Prescription Drug User Fee Act V (PDUFA V) regulation. Semaglutide is currently also under review by the European Medicines Agency and the Japanese Pharmaceuticals and Medical Devices Agency.GLP-1 products are also expected to face increased competition from biosimilars, less expensive versions of rival diabetes drugs.
Source : Press Release