Selective v/s Universal Leucodepletion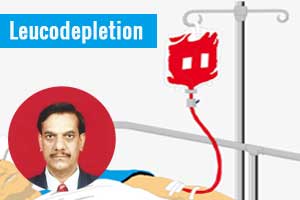 Leucodepletion is the process by which leucocytes are removed from the donated blood. Leucocytes poor red cells mean the removal of 70% of leucocytes with loss of less than 20% red cells during the procedure. Reduced number of transfusion reactions were observed when leuco-reduced products are transfused.
One log reduction implies a reduction of leucocytes up to 0.5X108 which is a critical antigenic load, which can be achieved by Buffy Coat removal . One Log reduction can prevent Febrile non haemolytic transfusion reaction (FNHTR). Whereas to prevent allo-immunization to HLA antigen to prevent the transmission of lymphotropic viruses like CMV ,the residual leucocytes should be less than 5X106 which is called critical immunogenic leucocytic load or log 3 reduction. These products should be labelled as "leucoreduced"
Various Methods of Leucoreduction:


Centrifugation


Washing of Red cells with Saline


Freezing & Deglycerolization


Buffy Coat removal


Filtration


Centrifugation: Blood is collected in triple or quadruple bags. Separate the Platelet rich plasma by centrifugation at 2000Xg for 3-5 minutes at 220 C using Refrigerated centrifuge (Light spin).Separate the PRP bag along with satellite and bags. Centrifuge the red cell bag along with satellite bag at light spin and remove the Red Cells in the satellite bag leaving behind the Buffy coat.
Washed Red Blood Cells: Saline washing of red blood cells results in removing majority of leucocytes and platelets. Washing of red cells can be achieved by manually using SCD and laminar Flow and by using machines.
Freezing & Deglycerolization: This method of leucofiltration is costly and time consuming ,however it gives better leucoreduction. This technique is used for storing rare blood group units for long term preservation.
Buffy Coat Removal: Buffy coat contains white cells, platelets and debris. On high speed centrifugation the Buffy coat layer is found in between pack red cells at bottom and plasma on top. By using component extractor red cells are removed to satellite bag from bottom and plasma from top. Buffy coat method remove leucocytes from Red cells as well from platelets. Buffy coat removed red cells has Leucodepletion of <1.2X108 per unit.
Filtration: Polyester Fibre filters are used to remove leucocytes. These are third generation filters. The pores of various sizes are widely distributed throughout the filter matrix. Particles are retained at every part of the filter due to different mechanism of WBC removal. Depth filtration involves both the sieving & adhesion mechanism. Leucoreduction by filtration has the advantages of increase efficiency of Leukocyte removal. It is easy to use and minimal red cell loss.. There are different type of filter material is available, includes, cellulose acetate, polyester, polyurethane etc.
Pre-storage filtration ( Lab Side Filter) is more effective than bed side filtration . Because pre storage WBC are removed before keeping blood in refrigerators thus minimising the chances of release of cytokines in stored blood thus reducing chances of post transfusion reaction. It is done after donation or during component preparation depending on type of filters.
Whole Blood In line filter and Red Cell concentrate inline filter bags are available. By using inline filters consistent WBC removal (<5x106) is assured by the quality control & GMP and GLP
Benefits of Pre-storage filter:


Better process control and quality assurance


Lower incidences of Febrile non-haemolytic transfusion reactions(FNHTR)


Lower incidences of allo-immunization and diminished incidences of immuno-modulation


Reduction incidence of bacterial contamination.


Reduction in CMV transmission


Reduction in storage lesion effects.


Reduction in transfusion associated graft v/s host disease risk


Reduction incidences of TRALI


Selective Leucoreduction: Selective leucoreduction is recommended in multitransfused cases like Thalassemia, leukaemia's, oncology patient on dialysis etc.
Experience in Regional Blood Transfusion Centre: GTB Hospital Blood Bank G T B Hospital is doing selective leucoreduction mainly issuing leucodepleted / leucoreduced products to Thalassemia patients for last six years.
Type of techniques / Bags used for leucoreduction in 2017 in Table 1




Month


Top & Bottom <1.2X108


Integral Filter

(<5x106)


Lab Side Filter (<5x106)


Total leucoreduced




January


-


456


545


1001/2341(43%)




February




-


-


1087


1087/2668(41%)




March


-




-


1550


1550/2678(58%)




April


-


-


1013


1013/2159(47%)




May


-


624


395


1019/2201(46%)




June


390




606


346


1342/2498(54%)




July


380




624


553


1557/2501(62%)




August


388


673


580


1641/2626(62%)




Cost per unit


Rs.318


Rs. 1115


Rs. 550+ 208 SCD& laminar flow


10209/19672

52%




The incidences of transfusion reactions were significantly reduced after transfusion of leucoreduced red cell conc. Also the acceptability of blood in these children has increased
The reactions as reported by the Thallasemia Day Care Centre are in Table 2:
| | | | | |
| --- | --- | --- | --- | --- |
| Year | No. Of transfusions | No. Of reactions | % | Type of reactions |
| 2017 | 1350 | 03 | 0.2% | Itching, Rash |
| 2016 | 1800 | 16 | 0.9% | Itching, rash, chills, chest pain, back pain |
| 2015 | 1850 | 22 | 1.2% | Fever, Itching, rash, chills, chest pain, back pain |
Universal Leucodepletion (ULD): ULD was introduced in several countries based on the evidence that selective Leucodepletion improves the clinical safety of blood components. It proves beneficial in reducing the potential risk of transmission of variants of CJD by blood components. But challenges are there because of non availability of:


Validation/ Standardisation of Leucodepletion processes.


Standardisation of sampling and low leukocyte counting technologies.


External Quality Assessment schemes


Advantages of ULD are:


Decrease in transfusion reactions


Decrease in HLA immunization


Low incidence of infections, fever episodes and antibiotic use


ULD will reduce the transmission of cell associated viruses like Cytomegalovirus (CMV), HTLV I & II, Herpes virus, E-B Virus etc.


Reduce incidences of TRALI


Reduction in parasitic transmission


Although leucoreduction will add cost to a unit of blood but the projections indicates that leucoreduced blood will become standard of care. US FDA has approved ULD but still they are using both leucoreduced and non leucoreduced blood. Non leucoreduced blood is used for patient going for surgery and GIT bleed.
Therefore keeping in view the advantages of ULD seems to be justified, but the cost involved in such endeavour would be immense, especially as far developing countries like ours is concerned. So ULD is not practically feasible to implement in the under-resourced nations.
Author Dr. Bharat Singh is a Consultant Pathology & BTS at G T B Hospital & University College of Medical Sciences Delhi-110095.He is also Director ,Delhi State Blood Transfusion Council.