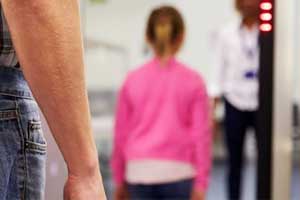 There have been reports in recent years of electromagnetic interference (EMI) from security systems at airports, that could impact the functioning of cardiac implantable electronic devices (CIEDs). However, a late-breaking study presented at the ESC (European Society of Cardiology) Congress 2018 has refuted such concerns and found that the full-body scanners used for security checks are safe for patients with defibrillators and pacemakers.
The study found no evidence of electromagnetic interference from millimetre wave body scanners impacting the functioning of CIEDs.
Carsten Lennerz, German Heart Center Munich, Department of Electrophysiology, Technical University Munich, Germany, reported that concerns over EMI with an innovative millimeter wave body scanner were unfounded. Dr. Lennerz said in the ESC Congress, "We wanted to provide reliable evidence on the safety of security body scanners for people with CIEDs to address patient anxieties and prevent unnecessary restrictions on these patients passing through security checkpoints."
The study holds significance as more than four million heart failure or cardiac arrhythmias patients rely on defibrillators and pacemakers to ensure regular beating of the heart.  It has been unclear whether body scanners used for security checks at airports interfere with the function of cardiac devices.
Also Read: MRIs safe in patients with wide variety of pacemakers, defibrillators : Study
The investigators recruited 302 patients with CIEDs (pacemakers, implantable cardioverter defibrillators, and cardiac resynchronization therapy devices) who attended their routine follow-up appointment at the German Heart Centre Munich between May 2017 and July 2018. The patients were exposed to the electromagnetic fields generated by a millimetre wave body scanner (and were subsequently analyzed for the presence of any EMI events.
Dr. Lennerz said: "We found no evidence of electromagnetic interference or device malfunction with the full body scanner we tested and can conclude that scanning is safe for patients with implanted cardiac devices. This may be because cardiac devices filter out high-frequency signals such as millimetre waves, the waves hardly penetrate the body at all, and the scan time is very short (usually around 100 milliseconds)."
The premise of the study was that the electromagnetic fields generated by body scanners could be misinterpreted by cardiac devices as signals from the heart, causing a pacemaker to stop pacing or pace incorrectly, or a defibrillator to mistakenly deliver shock therapy. Electromagnetic interference could also alter the cardiac device's programming, which is tailored to a specific patient, with unpredictable results. However, the research found no indication of electromagnetic interference or device malfunction.
Dr. Lennerz noted that a strength of the study was that patients underwent a security body scan with the same electromagnetic fields used in real life, but in a controlled hospital environment.
He concluded: "The study suggests that millimeter wave body scanners pose no threat to patients with pacemakers, ICDs, and CRT devices and there is no need for specific protocols or restrictions on their use."