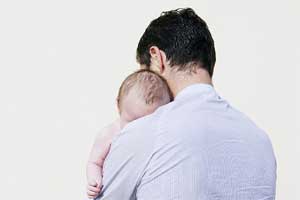 A new study published in the journal JAMA Pediatrics suggests that new fathers are also as likely to experience the symptoms of depression as new mothers.4.4% of fathers screened in this large, population-based cohort study screened positive for depression almost similar to the percentage of mothers who screened positive (5%).
Erika R. Cheng, a paediatrics researcher at the Indiana University School of Medicine in Indianapolis, and colleagues conducted the study to determine the prevalence of paternal depression during postpartum periods.
"The fact that so many new dads are experiencing this is significant because depression can have serious consequences if left untreated," said Cheng.
The researchers note that about 24% of mother experience depression in the postpartum and prenatal periods, which may negatively impact on families and children. Because of which the American Academy of Pediatrics (AAP) recommends depression screening for all parents (both fathers and mothers). While many women may be screened during prenatal visits or checkups after birth, men may not necessarily have the same access to screening.
Also Read: Depression symptoms among men when their partners are pregnant : JAMA Psychiatry
For the study, the researchers analyzed results from depression screenings done for parents during more than 9,500 visits to pediatrics clinics with their children.
Key Findings:
4.4 percent of fathers and five percent of mothers screened positive for depression.
Fathers comprised 11.7% of the proportion of parents who screened positive for depression.
Fathers were present at more than 2,900 visits or about 31 percent of the time.
Fathers were less likely to come to these checkups when children were older, black or poor..
The authors conclude that many fathers are going undiagnosed and untreated for depression.

One limitation of the study is that it was done at just five pediatrics clinics in Indianapolis, and it's possible screening results might be different elsewhere.
"Guidelines from the AAP emphasize the role of pediatricians to detect maternal depression but fathers have recently been included in these efforts. As with mothers, depression in father negatively affects children's behavior and development, making it a worthy target of intervention and identification efforts," write the authors.
Key takeaway of the study: Both parents should be routinely screened for depression during well-child exams.
For further information log on to 10.1001/jamapediatrics.2018.1505