................................ Advertisement ................................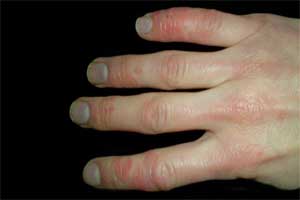 Specialty biotechnology company Gemelli Biotech has announced the commercial availability of sclero-smart, a new blood test that measures levels of anti-vinculin helping physicians in identifying the risk of gastrointestinal or vascular complications in scleroderma patients, according to a press release.
The levels of anti-vinculin were recently found to be elevated in patients with scleroderma and associated with gastrointestinal complications. This study suggests a link between scleroderma and the gut microbiome. The finding could open the door to discoveries of new microbiome-related therapeutic and diagnostic tools for scleroderma.
Sclero-smart is an ELISA blood test that measures the level of an autoantibody called anti-vinculin in patients who have Systemic Sclerosis and Scleroderma (SSc).
................................ Advertisement ................................
The clinical management of patients with SSc is typically very challenging, as the disease progression and organ involvement vary remarkably from individual to individual. There are a number of recognized autoantibody biomarkers that aid in understanding the progression of SSc in an individual. Anti-centromere, Anti-Scl-70 and Anti-RNA-pol-III are amongst the most common. The prevalence of these antibodies in the scleroderma population range from 10-30%.
According to an abstract published recently by the American College of Rheumatology, up to 38% of people with scleroderma tested positive for elevated anti-vinculin antibodies, making anti-vinculin more prevalent in the scleroderma population than any other marker currently used for testing. Moreover, scleroderma subjects with elevated anti-vinculin levels had greater gastrointestinal (GI) symptom severity, an association no other marker provides.
................................ Advertisement ................................
Also Read: Scleroderma -a puzzle far more than a skin disease
................................ Advertisement ................................
SSc commonly affects the GI tract, with symptoms including intestinal dysmotility, vomiting, bloating, anorexia, severe abdominal pain, small intestinal bacterial overgrowth (SIBO) and severe malnutrition. No other marker currently available is reliable in predicting the involvement of the GI system. Given the known link between anti-vinculin and intestinal neuropathy, anti-vinculin has substantial potential to serve as a marker for GI complications in scleroderma patients.
According to another abstract published by the American College of Rheumatology, anti-vinculin was also associated with pulmonary hypertension. Few markers have an association with this serious vascular complication.
Therefore, the measurement of anti-vinculin can be an important test to help rheumatologists identify the risk of GI or vascular complications in scleroderma patients. sclero-smart™ is the only commercially available test that measures anti-vinculin and has been developed through a partnership with the Medically Associated Science and Technology program at Cedars-Sinai.
Dr. Mark Pimentel, Executive Director of the MAST program, said "we know from a substantial volume of research that bacterial infection in the gut can cause an autoimmune response that involves the abnormal production of anti-vinculin. The connection between anti-vinculin and scleroderma means that the gut microbiome could help us answer many of the questions we still have about diagnosing and treating scleroderma."
"Given how common the antibody appears to be in the patient population, this test could provide us with a more detailed understanding of the disease's underlying causes," said Matt Mitcho, CEO of Gemelli. "As a potential catalyst for such a breakthrough, this test is an important development for helping patients with scleroderma."
Also Read: Scleroderma study: Hope for a longer life for patients with rare autoimmune disorder
Systemic Sclerosis and Scleroderma is a serious and sometimes fatal autoimmune disease that affects a variety of organs. Overproduction of collagen leads to the tightening and thickening of a patient's skin. Vascular inflammation and abnormal production of autoantibodies may follow, causing significant health complications to a variety of organs.
Author Details
Medha Baranwal joined Medical Dialogues as an Editor in 2018 for Speciality Medical Dialogues. She covers several medical specialties including Cardiac Sciences, Dentistry, Diabetes and Endo, Diagnostics, ENT, Gastroenterology, Neurosciences, and Radiology. She has completed her Bachelors in Biomedical Sciences from DU and then pursued Masters in Biotechnology from Amity University. She has a working experience of 5 years in the field of medical research writing, scientific writing, content writing, and content management. She can be contacted at medha@medicaldialogues.in. Contact no. 011-43720751
To know about our editorial team click here
................................ Advertisement ................................