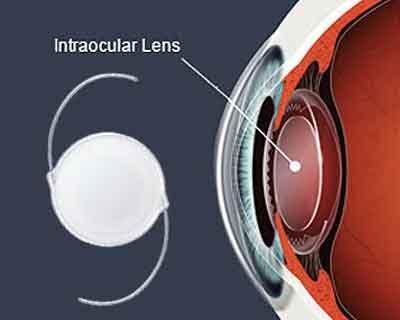 Dr.Pukhraj Rishi and colleagues at Department of Vitreoretinal Services, Sankara Nethralaya, Chennai have found out that Scleral-tuck technique is reliable and effective in refixation of posteriorly dislocated intraocular lens. The Study has been published in Indian Journal of Ophthalmology, the official journal of All India Ophthalmological Society.
They conducted a Single-center, retrospective, interventional, comparative study to evaluate the outcomes of surgical refixation of posteriorly dislocated intraocular lens (IOL) using a scleral-tuck method, and to compare the "scleral groove" and the "scleral flap" techniques used.
The researchers reviewed medical records of patients undergoing closed globe scleral refixation of posteriorly dislocated posterior chamber IOL (PCIOLs) by scleral-tuck method using two different techniques ("scleral groove" vs. "scleral flap" technique) . This approach involved retrieving the dislocated PCIOL, externalizing the haptics through 2 sclerotomies created in paralimbal lamellar scleral grooves, or under lamellar scleral flaps and tucking the haptics into limbus-parallel scleral tunnels. No specific haptic architecture, haptic suturing, or large incisions were needed. Main outcome measures included best-corrected visual acuity (BCVA), final mean refractive error, and intra- and post-operative complications.

In all thirteen eyes of 13 patients (scleral groove, n = 6; scleral flap, n = 7 eyes) with a mean follow-up of 20.6 months were included. BCVA in all eyes was maintained or improved postoperatively, with three eyes (23%) showing ≥2 line improvement. Median astigmatic error at 6-week follow-up was −1.25 D cylinder (range: −0.5 D–−2.0 D) which remained stable till final follow-up. All IOLs remained stable and well centered. None of the eyes had a recurrent dislocation, retinal detachment, endophthalmitis, or glaucoma. Both techniques were comparable in terms of postoperative BCVA, and refraction.

The investigators concluded that Intrascleral haptic fixation by scleral-tuck method is reliable and effective for secure IOL refixation of posteriorly dislocated IOLs, providing good IOL centration and stability with minimal surgically-induced astigmatism. Both techniques (scleral groove and scleral flap) appear to have similar outcomes in the short term.
For further reference log on to :
Rishi P, Rishi E, Maitray A. Surgical refixation of posteriorly dislocated intraocular lens with scleral-tuck technique. Indian J Ophthalmol [serial online] 2017 [cited 2017 Jun 22];65:365-70. Available from: http://www.ijo.in/text.asp?2017/65/5/365/207457