Scientists at BHU discover biscuit effective in diabetes and cancer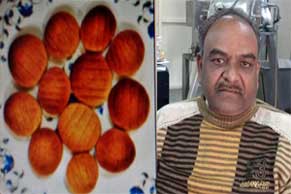 A great discovery by scientists at Banaras Hindu University -Food Science and Technology Center of the Institute of Agricultural Science, BHU has created a biscuit that enhances body resistance against diseases like diabetes and cancer patients in sugar. The biscuit naturally increases the amount of insulin in the body of diabetic patients and also has the ability to destroy cancerous cells.
Anil Chauhan, HOD Prof of Food Science and Technology Center has succeeded in preparing this biscuit after six months of extensive research. He told Live Hindustan that during the process of preparing this biscuit, natural sweetener Stevia and fenugreek have been used in special proportion. The typical quantity of fenugreek together with Stevia helps in controlling blood glucose with the natural process of production of trivolin and insulin. This combination of stevia and fenugreek destroys cancerous microbes by acting as a hypocholesterolemic and antibacterial agent. The base of biscuit has been made by a special proportion of skimmed milk powder and white flour (maida flour).
After reaching the body in a certain amount of biscuit, PI-3 kinase enzyme is generated which acts through four hydroxy isolusin pathway and regenerates pancreatic cells. This element acts in the body as an anti-diabetic, anti-cancer, and hepatoprotective agent.
Stevia is a natural sweetener that is fifty to 100 times sweeter than sugar. Its availability in our ecological environment is also not very difficult and it is absolutely safe.
The cost of producing special types of biscuits has come down drastically. It can be made accessible to the needy at the rate of normal biscuits sold in the market. In the normal packet, this biscuit can be kept in a month and special pack for six months.
In the International Seminar in Food Scientists, Mysore, Prof.Chauhan presented his innovative research to 28 hundred food scientists from 35 countries of the world as human welfare discovery. The research paper has been invited by the Japanese and Korean journals for publication.
Pro. Anil Chauhan says that he has informed the university for further action about this research which will take a call about its patent or selling it to any company.