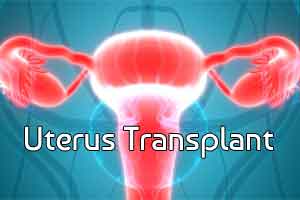 A scientific marvel-first ever case of live birth via deceased donor uterus has been successfully achieved. A baby has been born following a uterus transplantation from a deceased donor, according to a case study from Brazil published in The Lancet. All the 10 previous transplants from a dead donor had failed or resulted in a miscarriage.
Uterus transplantation from live donors became a reality to treat infertility following a successful Swedish 2014 series, inspiring uterus transplantation centers and programmes worldwide. There have been 39 womb transplants using a live donor, including mothers donating their womb to their daughter, resulting in 11 babies up till now. But this new achievement opens doors for treating uterine infertility by transplantation from a deceased donor, opening a path to a healthy pregnancy for all women with uterine factor infertility, without the need of living donors or live donor surgery.
In the present case, the recipient of the transplant was a 32-year-old woman with uterine infertility.  The recipient of the uterus was born without a uterus as a result of Mayer-Rokitansky-Küster-Hauser (MRKH) syndrome.
The donor was 45 years old and died of subarachnoid hemorrhage. The uterus was removed from the donor and then transplanted into the recipient in surgery lasting 10.5 hours. The surgery involved connecting the donor uterus' and recipient's veins and arteries, ligaments, and vaginal canals. The surgery took place in September 2016. She had IVF cycle four months before a transplant, resulting in eight fertilized eggs which were cryopreserved.
After about six weeks, she started having periods. After seven months, the fertilized eggs were implanted. She had a normal pregnancy and a 6lb (2.5kg) baby was delivered by Caesarean section on 15 December 2017. The transplanted uterus was removed during the cesarean section and showed no anomalies.
Dr Dani Ejzenberg, from Hospital das Clínicas in Sao Paolo, said: "The first uterus transplants from live donors were a medical milestone, creating the possibility of childbirth for many infertile women with access to suitable donors and the needed medical facilities.
Both the recipient and baby were discharged three days after birth, with an uneventful early follow-up. The immunosuppressive therapy was suspended at the end of the hysterectomy. At the age of seven months and 20 days, the baby continued to breastfeed and weighed 7.2kg.
According to authors transplants from deceased donors might have some benefits over donations from live donors, including removing surgical risks for a live donor, and that many countries already have well-established national systems to regulate and distribute organ donations from deceased donors. In addition, through implanting the fertilised eggs sooner they reduced the amount of time taking immunosuppression drugs, which could help to reduce side effects and costs.

For further reference log on to :
DOI:https://doi.org/10.1016/S0140-6736(18)31766-5