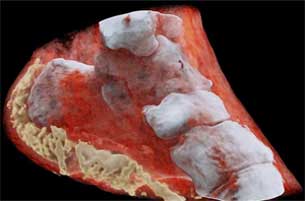 Scientists in New Zealand have performed the first-ever 3-D, color X-ray on a human with a technology that proposes to improve the field of medical diagnostics.
Europe's CERN physics lab, a European Organization for Nuclear Research has developed a  new device that works like a camera, collecting individual sub-atomic particles as they rapidly collide with pixels when its shutter is open.
X–rays were actually an accidental discovery, made by physicist Wilhelm Röntgen back in 1895. However, the medical establishment was quick to pick up on its potential and by the early 1900s, hospitals around the first-world were routinely using X-Ray technology. By 1930, "X-ray machines were central to hospital diagnosis," radiology departments were being opened worldwide and specific training for radiologists and technicians had begun.
The device for Colour X-Ray, named "Medipix," works like a camera detecting and counting individual sub-atomic particles as they collide with pixels while its shutter is open and allows for high-contrast, high-resolution pictures to be produced at a quick rate.This allows for high-resolution, high-contrast pictures.
"This color X-ray imaging technique could produce clearer and more accurate pictures and help doctors give their patients more accurate diagnoses," said a CERN statement.
The technology is unique because it has the capability to show practitioners the difference between bone, muscle, and cartilage in real time. This can help doctors locate the exact positioning and size of cancerous tumors, thereby helping them to improve the quality of physical operation.
The machine's "small pixels and accurate energy resolution meant that this new imaging tool is able to get images that no other imaging tool can achieve," said developer Phil Butler of the University of Canterbury.
The technology is being promoted by New Zealand company MARS Bioimaging, linked to the universities of Otago and Canterbury which helped develop it. Professors Phil and Anthony Butler from Canterbury and Otago Universities spent a decade building and refining their product.