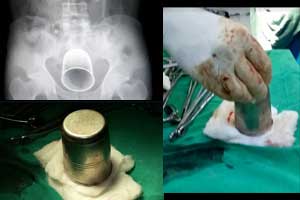 Hospital staff were astonished after a man was admitted with a metal cup lodged up his bottom.
A 60-year-old Indian farmer apparently agreed to have the 21cm tall object inserted there by local 'quack' doctors as a cure for his stomach ache.
After realising he was still in pain despite the 'treatment' and his family arranged for him to see genuine medics at a private clinic.
They performed an endoscopy and an x-ray – and were horrified to find the obstruction high up in his digestive system.
A video shows them removing the object during surgery at Sarthak Hospital in Satna, in the Madhya Pradesh state in India.
The man, who is now in recovery, said: 'I have learnt the lesson of my life.
'I will never go to a quack doctor again. I was a regular to the village doctors so I still can not imagine as to why they did something like this with me.
'One should never go to a quack. Go to a qualified doctor even if you have the minor ailment of any kind. In a bid to save some money, it is not wise to risk your life.'
The poorly man had been suffering months of vomiting and stomach pain before he was sedated by his village doctors, he claims.
Dr Sunil Agarwal, who led the operating team, said: 'The patient came to us with a complaint that he was having pain while passing story.
'We checked his anal cavity and found some solid substance was lodged there. It was then we decided to do an endoscopy on him.
'Much to our shock and surprise, the report showed a steel glass lodged inside his stomach.
'When we showed the report to the patient and his family members they too couldn't believe what they saw.
'We then decided to operate on him.
'The operation took one and a half hour during which we managed to successfully extract the foreign body from the patient's stomach.'