Sarcoidosis-Standard Treatment Guidelines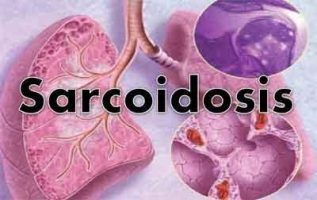 Introduction
Sarcoidosis is a systemic disorder of unknown origin characterized by granulomatous inflammation in a variety of organs, most commonly the lungs. It affects people of all racial and ethnic groups. Sarcoidosis cases are increasingly being reported from India since the second half of the last century. The accurate diagnosis of sarcoidosis and the ability to differentiate it from tuberculosis are challenges to physicians especially in countries with high prevalence of tuberculosis.
Ministry of Health and Family Welfare, Government of India has issued the Standard Treatment Guidelines for Sarcoidosis.
Following are the major recommendations :
Case definition (for both situations of care)
Patients with sarcoidosis may present to different specialties as sarcoidosis is a multiorgan disorder. The clinical feature may vary depending on the ethnicity, duration of illness, site and extent of organ involvement and activity of the granulomatous process. Lung manifestations are seen in almost all (> 90%) patients. Predominant pulmonary symptoms (30-50%) include dry cough [Indian patients experience frequent exacerbation (especially dry cough and wheezing) with seasonal change], dyspnea and chest pain.
Organs other than lungs, usually involved in sarcoidosis include skin (macules, papules, plaques, erythema nodosum and rarely lupus pernio), joints (arthralgias more common than arthritis), eye (anterior and posterior uveitis), liver and spleen (granulomatous hepatitis, hepatic cirrhosis and portal hypertension), peripheral lymph nodes, parotid, salivary glands (commonly parotid, rarely lacrimal and submandibular glands), nervous system [cranial nerve palsies (facial nerve involvement being commonest), headache, ataxia, cognitive dysfunction, weakness and seizures), heart (conduction blocks, tachy- and brady- arrhythmias cardiomyopathy with or without congestive cardiac failure, and sudden death), kidney (hypercalciuria more common than hypercalcemia, and renal failure) and. Sarcoidosis is an unusual cause of fever of unknown origin. Constitutional symptoms such as fever, night sweats, fatigue and weakness, anorexia and weight loss are found to be more common in Indian patients. Many asymptomatic patients (30-50%) are discovered when a chest radiograph is obtained for screening purposes. Tuberculin skin testing frequently reveals anergy.
Incidence of the condition in our country
The true burden of sarcoidosis in India is not clearly known as systematically documented reliable epidemiological data are not available. In general, at a secondary level hospital, 1-2 cases per month and at a specialty hospital, 1-3 cases per week are likely to be seen.
Differential Diagnosis from other granulomatous diseases (as below)
1. Diseases due to Infective agents
a) Mycobacterial


Tuberculosis


Atypical mycobacterial infection


b) Fungal


Histoplasmosis


Coccidiodomycosis


c) Bacterial


Brucellosis


Chlamydia infection


Tularemia


d) Parasitic


Leishmaniasis


Toxoplasmosis


Diseases due to exposure of organic or inorganic agents


Chronic hypersensitivity pneumonitis (Farmer's lung)


Pneumoconiosis (especially silco-tuberculosis)


Talc


Granulomatous diseases related to metals




Titanium


Aluminium


Zirconium


Chronic beryllium disease


e. Methotrexate pneumonitis.
Neoplasia


Lymphoma


Tumour-related granuloma


Autoimmune disorder


Granulomatous vasculitis (Wegener's)


Primary biliary cirrhosis


Churg-Strauss syndrome


Prevention and counseling
Sarcoidosis is considered as a benign disease with a tendency to wax and wane either spontaneously or in response to treatment. It has been reported that 60-70% of patients have spontaneous remission and 10-30% of patients have a chronic course. Permanent sequelae are observed in 10-20 % of patients.
OPTIMAL DIAGNOSTIC CRITERIA, INVESTIGATIONS, TREATMENT & REFERRAL CRITERIA
Situation 1: At Secondary Hospital: Optimal Standards of Treatment in Situations where technology and resources are limited
Diagnosis
Secondary hospital


History (occupational and environmental exposure; symptoms).


Physical examination with emphasis on lung, skin, eye, liver, heart, nervous system and salivary glands.


Peripheral blood counts (white blood cells, red blood cells, platelets).


Serum chemistry (calcium, liver enzymes, creatinine, blood urea nitrogen and angiotensin converting enzyme).


Urine analysis (routine and 24-hr urinary calcium).


Chest radiograph (postero-anterior view).


Abdominal ultrasound.


Tuberculin skin test.


Spirometry.


Electrocardiogram (ECG).


Biopsy of superficial organs (e.g. skin, lymph nodes).


A provisional diagnosis of sarcoidosis can be made based on clinic-radiographic findings with a negative tuberculin skin test result. Sarcoidosis is a possibility when chest radiograph shows bilateral hilar adenopathy in an asymptomatic patient. In some cases, erythema nodosum and bilateral hilar adenopathy on chest radiographs with fever and arthritis (Lofgren syndrome) suggests sarcoidosis. The diagnosis can be established when clinic-radiographic findings are supported by histological evidence of non-caseating granulomatous inflammation in one or more of the involved organs; other causes of granulomas should be excluded. A diagnosis of sarcoidosis is reasonably certain without biopsy in patients who present with Löfgren's syndrome. In all other cases, a biopsy specimen should be obtained from the involved organ that is most easily accessed, such as the skin, peripheral lymph nodes, lacrimal glands, or conjunctiva. If diagnosis requires pulmonary tissue, transbronchial biopsy by means of bronchoscopy has a diagnostic yield of at least 85% when multiple lung segments are sampled. If biopsy of a deep organ is required, the patient may require referral to a specialty hospital.
Situation 2: At Tertiary hospital where higher-end technology is available
In addition to the investigations suggested under secondary hospital, the following investigations should be available at the super-specialty hospital.


Contrast enhanced and high resolution chest tomography


18F-fluorodeoxyglucose positron-emission tomography (18FDG PET-CT) may be useful in assessing the extent of organ involvement and in pinpointing the candidate organ(s) for diagnostic biopsy.


Pulmonary function tests [spirometry, lung volumes, carbon monoxide diffusing capacity (DLCO), and 6-min walk test (6MWT).


Arterial blood gas analysis.


Biopsy to obtain histological confirmation of non-caseating granulomas (with special stains and cultures to exclude tuberculosis, fungal diseases and malignancy).


Fibreoptic bronchoscopy including endobronchial and transbronchial lung biopsy and bronchoalveolar lavage to rule out infectious etiology.


Ophthalmic evaluation with slit-lamp examination.


Other tests depending on clinical presentation and suspicion of extrathoracic disease.


Mediastinoscopy, video-assisted thoracoscopic surgery (VATS), open lung biopsy.


TreatmentSecondary hospital
Asymptomatic patients with normal lung function and patients with minimal, well tolerated symptoms, mild functional abnormalities and with chest X-ray stage 1 should be observed without treatment because of the potential for spontaneous improvement. These patients require treatment only if symptom develops or lung function deteriorates. Patients with symptoms and with chest X-ray stages 2 to 4 can be treated with corticosteroids. Pulmonary sarcoidosis is treated with prednisolone (30-40 mg/day, gradually tapered to 5-10 mg/day over 2-3 months; Indian patients don't require higher dosages). Treatment should be continued for a minimum duration of 12 months. Patients with cough alone can be treated with inhaled corticosteroids. Topical steroids have also been found to be useful in.
some patients with skin sarcoidosis, nasal involvement, or uveitis. Hydroxychloroquine should be added in patients with cutaneous and joints manifestations. Sarcoidosis patients with multi-organ involvement, requiring further investigations and alternate forms of treatment can be referred to a tertiary care super specialty hospital.
Super-specialty hospital
In addition to the treatment recommended for patients at secondary hospital, patients with severe ocular disease, neurosarcoidosis, cardiac sarcoidosis and malignant hypercalcaemia require treatment with oral corticosteroids as the firstline treatment. Several patients (~25%) relapse after discontinuation of corticosteroid therapy and some with frequent relapses may require indefinite therapy.
Patients with sarcoidosis requiring long-term corticosteroids therapy and those with comorbidities e.g. diabetes, hypertension and who suffer from major sideeffects of steroids can be offered steroid-sparing alternative treatments. Relapses of sarcoidosis may also require alternate steroid sparing drugs. Prednisolone requirement has been found to be considerably reduced in patients receiving methotrexate (5-15 mg weekly) for six months. Folic acid 1 mg/day may reduce toxicity of methotrexate. Other cytotoxic drugs for sarcoidosis are azathioprine (50-200 mg/day) and cyclophosphamide (50-150 mg/day). The antimalarial drugs chloroquine and hydroxychloroquine (200-400 mg/day for 6 months) have been found to be useful in lupus pernio, nasal sarcoidosis, disfiguring skin sarcoidosis and hypercalcaemia. As hydroxychloroquine is found to be less toxic, it can be used for prolonged periods without retinal damage. Hydroxychloroquine has also been reported to be useful in chronic pulmonary sarcoidosis and also in neurosarcoidosis failed on corticosteroid treatment. Refractory sarcoidosis can be treated with infliximab intravenously 3-5 mg/kg (2wkly for 2 doses initially and later on 3-10mg/kg every 4-8 wkly.
RESOURCES REQUIRED FOR ONE PATIENT




Situation


HUMAN RESOURCES


INVESTIGATIONS


DRUGS & CONSUMABLES


EQUIPMENT




1


1. Physician

2.Nurse

3.Laboratory

technician

4.Pulmonary function

test technician

5.Radiographer


1.Chest X-ray

2.Hemogram,serum

chemistry

3.Serum ACE levels

4.Pulmonary function tests

5.Electrocardiogram

6. Tuberculin skin test

7. ABG analysis

8. 2D-Echo


Oral

corticosteroids





Tuberculin

PPD,

syringes


1.X-ray machine

2.Spirometer

3.EKG machine

4.Clinical laboratory

services including

serum ACE levels

5. ABG analyzer

6. ECHO machine




2


As above plus

1.Interventional

radiologist,

2.Thoracic surgeon

3.Anaesthetist

4.Pathologist

5.Nuclear medicine

expert

6.Opthalmologist

7. Nursing staff trained

in assisting thoracic

surgery


Above plus

1.Contrast-enhanced CT

chest and

High-resolution CT chest for

underlying pulmonary

parenchymal disease

2.Tissue biopsies

3.Ophthalmic evaluation

4.PET-CT scan (if available)

5.Mediastinoscopy, VATS


Above plus

methotrexate,



hydroxychl

oroquine,

azathioprine,



cyclophosp

hamide,

infliximab


Above plus

1.CT machine

2.Bronchoscope

3.Pathology service

for interpretation of

histopathological

specimens

4.Ophthalmic

evaluation setup

including slit lamp

examination

5.Nucelar medicine

facility for PET-CT

(if available)

6.Mediastinoscope

7.Video-assisted

thoracoscope




Guidelines by The Ministry of Health and Family Welfare :
Dr S.K. SHARMA
AIIMS