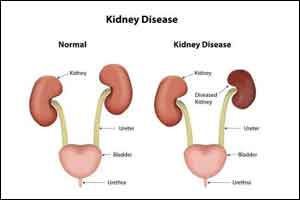 Urinary alkalinization with Intravenous sodium bicarbonate and oral acetylcysteine are widely used to prevent acute kidney injury and associated adverse outcomes after angiography without definitive evidence of their efficacy.
Dr.Steven D. Weisbord and associates in a  multicenter study randomized 5177 patients scheduled for angiography (primarily coronary) to receive periprocedural administration of intravenous sodium bicarbonate or saline and, additionally, to receive acetylcysteine or placebo. All the selected patients had estimated glomerular filtration rates (GFRs) between 15 and 59 mL/minute/1.73 m2, and all patients were receiving iso-osmolar or low-osmolar agents.
The primary endpoint was a composite of death, the need for dialysis, or a persistent increase of at least 50% from baseline in the serum creatinine level at 90 days. Contrast-associated acute kidney injury was a secondary endpoint.
The researchers found that there were no significant between-group differences in the rates of contrast-associated acute kidney injury in patients who received saline only and those who received bicarbonate, acetylcysteine, or both agents. Similarly, researchers noted no differences between groups in the incidence of acute kidney injury within several days (≈9% in each group).
This study concluded that among patients at high risk for renal complications who were undergoing angiography, there was no benefit of intravenous sodium bicarbonate over intravenous sodium chloride or of oral acetylcysteine over placebo for the prevention of death, need for dialysis, or persistent decline in kidney function at 90 days or for the prevention of contrast-associated acute kidney injury.
For further reference log on to :
Weisbord SD et al. Outcomes after angiography with sodium bicarbonate and acetylcysteine. N Engl J Med 2017 Nov 12; [e-pub]. (http://dx.doi.org/10.1056/NEJMoa1710933