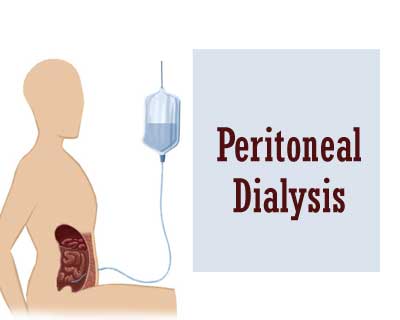 Patients are generally referred to a surgeon from a nephrologist for catheter placement once the decision is made to initiate peritoneal dialysis. Utilizing PD as a home therapy affords greater patient autonomy and quality of life than in-center hemodialysis (HD).. Not surprisingly, patient satisfaction has been shown to be significantly higher in PD patients. In addition, PD can be advantageous in the pre-transplantation period and prolong residual renal function compared to HD. It also leads to a slight survival advantage during the first two years of renal replacement therapy and there is an improvement in anemia of kidney disease (significantly lower requirements of erythropoietin). However, there are no randomized controlled trials comparing the two modalities. Finally, peritoneal dialysis may be favored in patients with vascular access failure, intolerance to hemodialysis, congestive heart failure, long distance from dialysis center, and peripheral vascular disease and bleeding diathesis. Peritoneal dialysis may also be preferred by patients with the possibility of renal Transplantation in the near future, needle anxiety and active lifestyle.
In 2014, Society of American Gastrointestinal and Endoscopic Surgeons (SAGES) published the Guideline for Laparoscopic Peritoneal Dialysis Access Surgery.
Following are its major recommendations:
Patient Selection
Contraindications for laparoscopic peritoneal dialysis (PD) catheter placement include active abdominal infection and uncorrectable mechanical defects of the abdominal wall. ( Strong recommendation)
History of prior abdominal surgery, regardless of how many, is not a contraindication to laparoscopic PD catheter insertion. It is appropriate for surgeons with experience in advanced laparoscopy to attempt lysis of adhesions and catheter placement in these patients. (Strong recommendation)
Patients with abdominal wall hernias should be diagnosed and repaired before or at the same time as PD catheter insertion. A repair should be chosen that minimizes peritoneal dissection and does not place mesh intraperitoneally. ( Weak recommendation)
Peritoneal dialysis may be initiated in patients with intraabdominal foreign bodies such as after open abdominal aortic aneurysm graft repair, but a four month waiting period is recommended. Very limited data exists regarding peritoneal dialysis in the presence of an adjustable gastric band. ( Weak recommendation)
Peritoneal dialysis may be safely initiated in patients with ventriculoperitoneal shunts. (Weak recommendation)
Gastrostomy tubes can be used in pediatric patients on peritoneal dialysis, though placement by blind percutaneous endoscopic technique (PEG) appears to be associated with higher infection rates compared to open insertion. (Weak recommendation)
Laparoscopic PD catheter insertion with carbon dioxide pneumoperitoneum requires general anesthesia. Patients who are high risk to undergo general anesthesia should be considered for a technique of catheter insertion that only requires local anesthesia and sedation, such as open insertion or fluoroscopically guided percutaneous insertion. Laparoscopic insertion using nitrous oxide pneumoperitoneum and local anesthesia is also an option where available. (Weak recommendation)
Insertion Options
For peritoneal access, blind percutaneous, open surgical, peritoneoscopic, fluoroscopically guided percutaneous, and laparoscopic insertion procedures, when performed by experienced operators, are feasible and safe with acceptable outcomes. ( Strong recommendation)
Advanced Laparoscopic Techniques to Avoid Catheter Dysfunction
Laparoscopic lysis of adhesions should be incorporated to reduce catheter dysfunction. ( Strong recommendation)
Laparoscopic suture fixation of the PD catheter may reduce catheter dysfunction but additional is needed. (Weak recommendation)
Rectus sheath tunneling helps prevent migration and may be superior to suture fixation since it does not require added ports and instruments. (Weak recommendation)
 in adults is a safe adjunct to laparoscopic PD catheter insertion and should be incorporated either routinely or selectively to reduce catheter dysfunction. ( Weak recommendation)
Omentectomy should be considered in pediatric patients undergoing peritoneal dialysis catheter placement. (Weak recommendation)
The combination of lysis of adhesions, peritoneal tunneling and omentopexy in combination offers the lowest rate of postoperative PD catheter dysfunction and should be a preferred technique in adults. ( Strong recommendation)
Perioperative Considerations
Presurgical assessment should include thorough examination for hernias and the catheter exit site should be marked before surgery. (, Weak recommendation)
A need for preoperative bowel preparation has not been conclusively demonstrated and further is needed before a recommendation can be provided.
Prophylactic antibiotics should be used prior to laparoscopic insertion of PD catheter. Vancomycin may be superior to first generation cephalosporins in minimizing early peritonitis after PD insertion but local resistance patterns should be also considered when choosing the preoperative antibiotic. (Strong recommendation)
Surgical Technique
Peritoneal access during lap PD insertion should be obtained away from previous scars; surgeons should use the technique they are most comfortable and experienced with. (Weak recommendation)
The surgeon should minimize the size and number of ports used and place them in a manner that optimizes visualization of the catheter peritoneal insertion point and the pelvis. ( Weak recommendation)
When inserting the PD catheter through the abdominal wall, the deep cuff should be placed inside the rectus sheath. ( Strong recommendation).
The superficial PD catheter cuff should be 2 cm from the skin exit site in children and at least 2 cm in adults to prevent future cuff extrusion. ( Weak recommendation)
To read further click on the following link:
http://www.guideline.gov/content.aspx?id=48368&search=latest+guideline
The following two tabs change content below.
Geeta Sharma
Studied at Carmel Convent School headed the sports wing of the school, was the General Secretary Miranda House Students/ Union,, Did journalism at Patriot and Eenadu/Newstime. worked as teacher warden in schools of Mussoorie/ Dehradun/ Noida
Latest posts by Geeta Sharma (see all)