Routine Preoperative Tests: NICE Updates guidelinse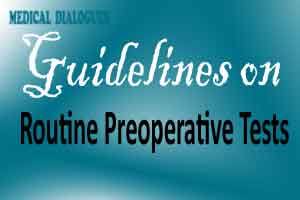 The National Institute for Health and Care Excellence (NICE) has today published updated, simplified guidance on the use of the tests some people need before they have planned surgery.
The guideline recommends reducing the number of routine tests used in healthy patients. It also recommends that the results of tests people have at their GP's should be available when they are referred for surgery.
The updated guideline strengthens the previous recommendations on pregnancy testing, saying it should be carried out when there is any doubt about whether a woman may be pregnant.
Ian Smith, senior lecturer in anaesthesia, consultant anaesthetist and chair of the guideline group, said: "Too much preoperative testing may cause anxiety in patients, delays in treatment and further unnecessary treatments without influencing outcome or changing how patients are managed during surgery. We have therefore extensively revised and simplified the original 2003 NICE guidance.
"Under the new guidance, patients who are reasonably healthy or having relatively non-invasive surgery should need few, if any, preoperative tests. An important new recommendation is that the results of tests patients have in primary care are included when they are referred for surgical consultation so that tests aren't repeated unnecessarily.
"We are also recommending that anaesthetists are consulted before some specialised tests, such as echocardiograms and lung function tests, are requested."
Since the
original NICE guideline
was issued in 2003, preoperative assessment has changed radically and this is reflected in the updated guideline. For example, random blood glucose testing to see if someone has diabetes has largely been discontinued while new tests, such as echocardiography, are being used more.
Most patients are now seen well in advance of surgery in nurse-led preoperative assessment clinics where a detailed medical history is taken and a physical examination carried out to see if patients are fit enough to have surgery and an anaesthetic. Their use has reduced the amount of preoperative tests requested.
Professor Mark Baker, clinical practice director for NICE, said:
"Although there has been a reduction in the number of routine tests for young, healthy patients having planned minor surgery since our original guideline was published, we do know that unnecessary tests continue to be requested.
"When you consider that in 2014/2015 the NHS in England carried out 9.9 million operations, it's apparent that even a small percentage of unnecessary testing can affect large numbers of patients and have a significant impact on costs.
"This updated guideline will help bring further clarity about what tests should be requested for which patients and therefore enable clinicians to focus resources only where they are most likely to provide information that can't be obtained from a patient history and physical examination alone and have a positive impact on the care a patient receives."
Audrai Morgan, pre-assessment lead nurse and guideline group member, said:
"This updated guideline is a valuable tool that will enable healthcare professionals undertaking preoperative assessment to feel confident that the tests they are doing are the right ones for finding out whether patients are fit to have surgery. Just as importantly, it will help to ensure the best possible post-operative outcomes for patients."
Hasan Mukhtar, consultant general and colorectal surgeon and guideline group member, said:
"The updates to this guideline have made it simper to use while at the same time ensuring it remains comprehensive. In making clear recommendations on what preoperative tests to use according to the complexity of the operation and the health of the patient, the updated guideline will help to reduce the unnecessary cancellation of planned surgery."
You can Read the full guidelines by clicking on the following link
Source : NICE