Routine Flu vaccination in Pneumonia patients reduces disease recurrence, finds study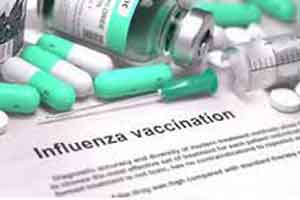 Flu vaccination protects against influenza and that is the reason precisely why yearly flu shots are recommended but a new study finds an added incentive which is that routine Flu vaccination in Pneumonia patients reduces the recurrence of disease and chances of repeat hospitalisation. Despite many advances in understanding the causes and treatment of Pneumonia, it's still a major cause of death in the United States, according to an article in today's New England Journal of Medicine.
Dr Kam Sing Ho, Mount Sinai St. Luke's and Mount Sinai West, New York City along with his associates have found that among adults admitted to a hospital with pneumonia, patients who received an influenza vaccination had a lower chance of being readmitted. He will present the study findings at the CHEST Annual Meeting 2019 in New Orleans.
The co-occurrence of influenza and pneumonia has been well established, accounting to up to half of deaths during seasonal influenza in the United States. Although the beneficial effects of influenza vaccination are well described, vaccination is often regarded as a primary care service.
The researchers conducted a retrospective study using the AHRQ-HCUP Nationwide Readmission Database to study 735,120 hospital admissions for community-acquired pneumonia to understand the role of influenza vaccinations in reducing health care spending. They found that the in-hospital influenza vaccinations were given to 1.91% (13,983) of the patients admitted with pneumonia.
The investigators found that the overall 30-day rate of readmission was 11.9%. Nearly all return patients (81%) were readmitted with pneumonia. The readmitted patients had double the risk of dying (7.69%) than the index admissions (3.32%). A total of 489,247 hospital days was associated with readmission, and the total health care in-hospital economic burden was $1 billion in costs and $3.67 billion in charges.
In-hospital influenza vaccination was associated with a 6.5% reduction in readmissions. Other factors included private insurance and income levels. Factors associated with a higher risk of readmission included not receiving an in-hospital influenza vaccination, advanced age, Medicare insurance, other conditions, atrial fibrillation, acute respiratory failure and in-hospital oxygen use.
"One striking fact that we also discovered in this study is that less than 2% of patients hospitalized with pneumonia received an influenza vaccine during their hospital stay, which indicates an underutilized service with significant implications on hospital readmission and mortality," Dr Ho explained. "Essentially, we are 'missing out' on a golden opportunity."
"The National Readmission Database provides a platform to identify these correlations. This is an early study with promising results, which we are planning to further refine with our own hospital database. In the future, we want to incorporate routine influenza vaccination for all adults hospitalized with community-acquired pneumonia," concluded Dr. Ho.
"This study highlights the importance of implementing influenza vaccination, specifically in patients with a diagnosis of community-acquired pneumonia," commented Michelle Cao, MD, member of the American College of Chest Physicians Scientific Presentations and Awards Committee and Clinical Associate Professor at Stanford University, California. "Although yearly influenza vaccination is widely recommended and highly publicized during the winter months, the key challenge is how to successfully implement vaccination in patients who would highly benefit from vaccination but are difficult to access for care.
"Influenza vaccination is considered a 'primary care-driven service,'" Dr. Cao continued. "The question is how to best develop practices that would ensure successful vaccination in the inpatient setting, specifically for patients admitted for community-acquired pneumonia. Successful protocols would potentially be used in other inpatient populations as well. This would have significant implications on morbidity, mortality and economic burden."
For further reference log on to :
http://www.chestnet.org
Source : New England Journal of Medicine