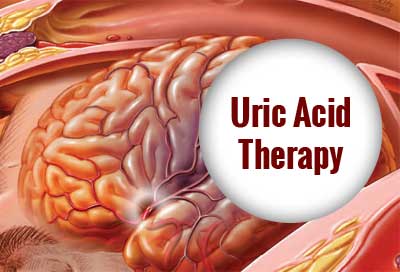 Stroke is a common and devastating disease that has been one of the most common cause of mortality and disability in the past decade.
A team of doctors at Department of Neurology, KMC Hospital, Mangalore, Karnataka, India led by doctors  Rakshith KC, Saumya H Mittal, ZK Misri, Shivanand Pai performed a study to analyse the role of uric acid (UA) in the outcome of thrombolysis after stroke.
For this, an observational study was conducted over 5 years at the KMC Hospital, Mangalore from July 2011 to July 2016. All patients above the age of 18 years presenting to the hospital within 4.5 hours of stroke onset were included into the study. The patients' stroke severity was calculated by National Institute of Health Stroke Scale (NIHSS) score, whereas the outcome was measured by modified Rankin Scale (mRS) score. The patients were divided into good outcome, poor outcome, and expired groups of patients depending on the mRS score (<3, ≥3 but <6, and 6, respectively). UA in the blood was measured and recorded in all the included patients. At the end of the study, significance was calculated by standard statistical methods.
Study Results showed that a total of 71.9% patients were found to have a good outcome, 24.2% patients had poor outcome, and the rest were in the expired group of patients. Among the good outcome patients, UA was found to be 4.6 ± 1.4 mg/dL, in the poor outcome group UA was 3.7 ± 1.1 mg/dL, and in expired group UA was 3.2 ± 0.6 mg/dL (P = 0.002).
The authors concluded UA has neuroprotective actions and can predict a good outcome among patients undergoing thrombolysis.
The article has been published in the October-December 2016 issue of Astrocyte, the journal of National Board of Examinations.
You can read the full article by clicking on the following link
Read the full Article click on the link : http://www.astrocyte.in/temp/Astrocyte33137-1304149_033721.pdf