Role of Palliative Care in India- MD Exclusive Interview with Padmashree Dr MR Rajagopal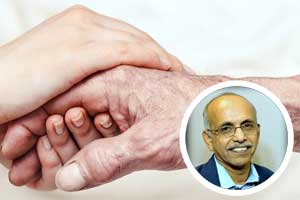 Palliative care is a holistic approach to care given to improve the quality of life of patients who suffer from a serious or life-threatening disease. It addresses the person as a whole, not just their disease. Unfortunately, in India, the field of palliative care is still in nascent stages.
Dr. M.R Rajagopal has emerged as an eminent figure in the field of Palliative care. He has been honored with Padma Shree Award in 2018. He is often referred to as the "Father of palliative care' in India by Pallium India.
Medical dialogues did an interview with Dr. Rajagopal to have more insight into palliative care. Read Excerpts Below
Q.1.What is palliative care?
The current official definition of palliative care by the World Health Organization (2002) says that "palliative care is an approach that improves quality of life of patients and their families facing the problems associated with life-threatening illness, through the prevention and relief of suffering by means of early identification and impeccable assessment and treatment of pain and other problems, physical, psychosocial and spiritual".
This would mean that pain and other symptoms are addressed along with emotional distress like depression, anxiety or hopelessness, social issues like abandonment, financial destruction or stigma against disease and spiritual issues connected with either faith or religion or meaning of life.
A recent (October 2017) Lancet Commission on access to palliative care and pain relief advises that the focus (along with attention to the disease) should be on serious health-related suffering (SHS). They also estimate that 61 million people worldwide are in such suffering.
Q.2.What is the current scenario of palliative care in India and how will medical students get benefit from it?
Having1/6th of the population of the globe, India is expected to be home for 10 million such people in serious health-related suffering. This is perhaps an under-estimate, considering the recent reports that in India every year 55 million people are subject to catastrophic health expenditure and that 38 million people are pushed below the poverty line by health care cause every year.
On the physical domain, the suffering can be beyond an average person's power of imagination. 2/3 rd of all cancer pains cannot be relieved without opioid painkillers in the class of morphine. But less than 2% of the needy in India has access to it.
Despite a lot of efforts by non-government organizations for over more than a quarter of a century and despite the creation of a national program for palliative care by government of India in 2012 and despite the amendment of the Narcotic Drugs and Psychotropic Substances Act (NDPS Act) in 2014 thus removing many regulatory barriers to opioid access, the sad state of affairs is continuing. One major reason for this is that even today, medical and nursing students are not taught practical pain management or the basics of palliative care. The gap also exists in imparting basic communication skills.
Understandably, quality of life of patients and families and treatment of serious health-related suffering demand such education of medical and nursing students as well as in-service training of healthcare professionals. In addition, such training would go a long way in restoring the morale of professionals. Once empowered to treat suffering, they will not be forced to turn away from suffering and instead will get more satisfaction from their work by being able to relieve the suffering that they see before them.
Q.3. How can the current GP inculcate palliative care in their practice?
To be able to relieve pain and other sufferings, today's general practitioner can learn the basics through several means, including distance education programs. But unfortunately, it is not easy to learn clinical medicine without actually seeing it and practicing it with patients and families. Around 10 institutions in various parts of the country offer hands-on palliative care courses of varying duration from 10 days to 6 weeks. Several options for online training are also available. (information about several courses can be seen at palliumindia.org/courses and more information can be obtained by emailing info@palliumindia.org).
Q.4. What steps can be taken to introduce palliative care in nursing, institutions, and ICU in India?
Introduction of palliative care among medical and nursing practitioners, in nursing homes, hospitals and specifically in intensive care units, a step-wise action can be undertaken. The first step is a policy decision by the management that it has a duty to provide such care and will only stand to benefit from it in terms of the goodwill that the institution will earn by providing humane care. The second step would be making sure that at least one doctor and one nurse go through a 6-weeks hands-on palliative care training course. (Pallium India also offers some hand- holding and support for institutions which are desirous of starting palliative care services). The remaining needs like space, medicines, vehicles, and staff for home visits to bed-bound patients are not very expensive. In fact, palliative care is low-cost compared to most health care interventions.
Q.5. What is the role of Research in Palliative care to deliver high-quality palliative care and assess future needs of the country?
Research often takes a back seat in the face of overwhelming clinical needs. This is unfortunate. Research has to be a priority. When we go by western literature and provide palliative care (or any aspect of health care, for that matter), we may fail to see the local ground realities. The profile of the health issues as well as the elements of suffering will be very much dependent on the social and cultural realities. Obviously, planning palliative care facilities without understanding the needs can provide, at best, only a partial solution. Secondly, the palliative care delivery system
needs to be audited so that the facilities can be improved. In short, need-based research should be very much a priority.
Q.6 What difference has Pallium India made in improving the prevalent dismal condition?
One of the most noted contributions of Pallium India to relief from health-related suffering in India has been the work that it undertook with the government of India. It catalyzed the development of the National Program for Palliative Care (NPPC) by the government of India. Unfortunately, the program has not yet had anywhere near the required budget allocation; but now that the new National Health Policy of 2016 has incorporated palliative care in it, we expect better days to come.
Another major achievement has been Pallium India's significant contribution to the amendment of the Narcotic Drugs and Psychotropic Substances (NDPS) Act by the Indian parliament in 2014. This amendment has to be implemented by all of the 29 states and 6 union territories in India, and this is something that Pallium India is currently engaged in.
Pallium India also initiated the creation of a state palliative care policy in Kerala, thus making it the first government in a developing country to have such a policy. Currently, the organization is working with several state governments for the initiation and implementation of such policies. Concurrently Pallium India also identifies champions – individuals or institutions – in any part of the country and support them to create palliative care services. The organization has already catalyzed the development of 21 palliative care centers in 16 states and 2 union territories, the majority of them having had no palliative care services at all till this development.
More recently it has started statewide initiatives to develop palliative care services in the states of Andhra Pradesh, Mizoram, and Uttarakhand.
Recognizing that a minimum quality of care is not a luxury; but a right of the person with the disease and the family, Pallium India created a working group and in the years 2005-2006 developed a national standards tool which organizations can use for self-evaluation of quality of care and thereby for its improvement.
In the field of education, it has provided palliative care education with its 6 weeks certificate courses and 10 days of foundation courses for hundreds of doctors and nurses from various parts of the world. It worked with the Indo-American Cancer Association to refine its existing curriculum for the 6 weeks course and to bring in that uniform curriculum and evaluation system in 6 palliative care training centers in the country.
Equally importantly, Pallium India also catalyzed the creation of palliative care training centers in Trivandrum, Hyderabad, Ahmedabad, and Jaipur.
In another recent development, with assistance from American Cancer Society, Pallium India worked with two hospitals – Cachar Cancer Centre in Silchar, Assam, and Swamy Rama Himalayan University Cancer Research Institute in Uttarakhand, to develop "pain-free hospitals" where every patient is monitored for the presence of pain and is treated. Every doctor and every nurse in these hospitals have basic training in pain management and all difficult pains are handled by the palliative care team. Apart from providing compassionate care to the patients in these hospitals, this movement conveys a major message to the health care world that it is a duty to treat pain and suffering.
Q.7 How do you intend to fill the gap between the requirement of Palliative care and available facilities and infrastructure?
To fill the huge gap between the need for palliative care and the distressing lack of access to it all over India, Pallium India's mission is to work towards integrating palliative care into as many arms of the health care delivery systems in the country as possible. A national reach cannot possibly be achieved without the involvement of the Government and hence the organization endeavors to work with the relevant bodies in the central and state governments. In particular, it works with the Ministry of Health and Family Welfare of Government of India to upgrade and implement the National Program for Palliative Care (NPPC) and with the Department of Revenue for revision and implementation of the NDPS rules of May 2015. At the same time, both the above initiatives have to be promoted with every state government also, as an implementation of both NPPC and amended NDPS rules fall under the purview of state governments.
A nation-wide activity of this magnitude obviously needs the coordinated work of palliative care champions in every part of the country. Therefore, Pallium India identifies and collaborates with such champions in states of India. Pallium India also believes that palliative care education is the key to improved access to palliative care and works with institutions and individuals anywhere in the country to promote it, with emphasis on hands-on practical training.
Concurrently, Pallium India will continue to catalyze the development of palliative care services and simultaneously facilitate cross-sector conversations about illness-related suffering – women's rights, gender disparity, microfinance, interruption of education, unemployment and so on.
Q.8.What effects has Pallium India shown since its inception?
There are three possible fields in which progress in palliative care can be evaluated. One is access to palliative care, the second, changes in governmental and institutional policy, and the third improved palliative care education.
The fact that about 21 new palliative care centers have been catalyzed in 16 different states and that the number is growing is promising, though admittedly, faster progress should be aimed at in the future. On the policy front, the amendment of the NDPS Act by the Indian Parliament in 2014, the creation of the national program for palliative care (NPPC) in 2012 and the announcement of the Kerala State palliative care policy in 2008 were significant achievements. So was the development of the National Standards Tool for quality assurance. And in the education front, the development of four palliative care education centers in four different states, development of undergraduate medical and nursing curricula and the hundreds of doctors and nurses trained in palliative care are all major agents for change for the future.
Q.9.What message would you like to give to the readers of the medical fraternity?
The duty of the health care provider is to mitigate suffering. It is "to cure sometimes, relieve often and comfort always". As the Indian Council of Medical Research (ICMR) points out, "There is no exception to this principle". Unfortunately today, almost all the effort is aimed at diagnosis and cure. Pain and other sufferings – whether it be physical, social, psychological or spiritual – is almost completely ignored. When the cure is not possible, the patient is either rejected or submitted to aggressive inappropriate treatment which adds to physical, social and emotional distress and also leads to the financial destruction of the family. As the world health assembly pointed out in 2014, principles of palliative care need to be integrated into all health care to mitigate serious health-related suffering.
Dr. M.R Rajagopal is the Chairman of PalliumIndia. He is currently the Director, Trivandrum Institute of Palliative Sciences (WHO Collaborating Centre for Training and Policy on Access to Pain Relief)