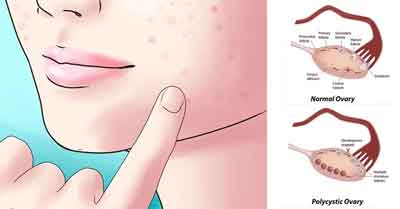 " Role of AMH as Diagnostic Tool for Polycystic Ovarian Syndrome" was a prospective case-control study conducted by us.The same was published in The Journal of Obstetrics and Gynecology of India. An anti-mullerian hormone test (AMH) can be done at any time in the menstrual cycle, as your amh levels are stable throughout the cycle. It is a marker for ovarian (egg) reserve and is assessed via an AMH blood test.
The study comprised of 45 women with PCOS, diagnosed using Rotterdam criteria and 45 Non-PCOS women as controls. Clinical history, BMI, Ferriman Gallwey score, FSH, LH, estradiol, TSH, prolactin, total testosterone, AMH level and pelvic USG  was done for all the women. PCOS cases and control were matched for age and BMI. Median AMH levels in PCOS women was almost twice that in controls, being  4.32ng/ml 2.32 ng/ ml respectively (p=0.001).Diagnostic potential of AMH alone for PCOS was highest at a cut off of 3.44 ng/ml with sensitivity and specificity of 77.78% and 68.89% respectively. AMH when used as the 4th parameter as an adjunct to existing three Rotterdam criteria of oligomenorrhea (OA), hyperandrogenism (HA), Polycystic ovarian Morphology (PCOM), OA+HA+PCOM+AMH (any three out of four) yielded sensitivity of 80 %.However, when AMH was used to replace  PCOM in Rotterdam Criteria  OA+HA+AMH (any two out of three) or OA/HA+AMH resulted in the sensitivity of 86.67% and 71.11% respectively.
Hence we concluded that although  AMH was significantly higher in PCOS than in controls yet it could not effectively diagnose PCOS when used independently. However, when AMH was used as an adjunct to existing Rotterdam Criteria especially when it was used to replace PCOM,  then it was found to be an effective diagnostic tool for PCOS.
Dr Upma Saxena
The author is MD (Gynecologist) and is Prof. at Vardhman Mahavir Medical College at Safdarjung New Delhi. She is a member Editorial Board, Gynecologist at Specialty Medical Dialogues.

Disclaimer:
The views expressed in the above article are solely those of the author/agency in his/her private capacity and DO NOT represent the views of
Speciality Medical Dialogues
.