Rohtak doctors report rare case of Bifid Uvula in adult
Dr Jyoti Sharma at Department of Anaesthesiology, Pandit Bhagwat Dayal Sharma Post Graduate Institute of Medical Sciences, Affiliated to University of Health Sciences, Rohtak, Haryana, India. and colleagues have reported a rare case of Bifid Uvula. The case has appeared in the Journal of Case Reports.
A bifid uvula is an abnormal split or division in the uvula or tissue that hangs down at the end of the soft palate in the roof of the mouth. It has a lesser amount of muscular tissues as compared to the normal uvula. It is often noticed in infancy and rarely found in adults. Sometimes a bifid uvula is an indication of a submucous cleft palate that can lead to problems with speech, swallowing and may be associated with ear problems. In majority of cases, the genetic association is present in patients with the bifid uvula. Bifid uvula can be a manifestation of a rare disorder known as Cornelia de Lange syndrome.
A 26-year-old female weighing 40 kg, presented for a pre-anaesthetic checkup for fitness for thyroid surgery for a thyroglossal cyst. She belonged to ASA grade 1. There was no history of difficulty in swallowing and breathing, voice change, pain abdomen or syncopal attack. She had a history of surgery for defect in-ear lobule in childhood under general anaesthesia. There was no significant family history present. Airway examination was normal except for bifid uvula. Her blood reports, ECG and chest X-ray were within the normal range. No other clinical features were suggestive of any syndrome. She was advised abdominal ultrasound, brain imaging, and echocardiography which was within the normal range.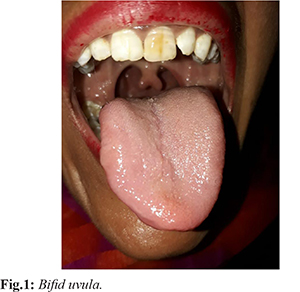 She was pre-medicated with tab ranitidine 150 mg and tab alprazolam 0.25 mg one night prior and early morning on the day of surgery. An intravenous line was secured with 18 G cannula. She was induced with inj. glycopyrrolate 0.2 mg, inj. fentanyl 80 microgram and propofol 80 mg and ink. vecuronium 5 mg. Gentle laryngoscopy was done to avoid contact with hard and soft palate and the trachea was intubated with tube size 7.0 mm. Vitals just after intubation were HR=86/min, NIBP= 130/80 mmHg and SPO2=100%. Anaesthesia was maintained with oxygen, nitrous oxide and sevoflurane and inj. vecuronium 1 mg. Her surgery was uneventful and she was extubated without any complication and was shifted to the recovery room.
For more details click on the link:
http://dx.doi.org/10.17659/01.2019.0051
Source : Journal of� Case Reports