Robotic pill may replace injection in future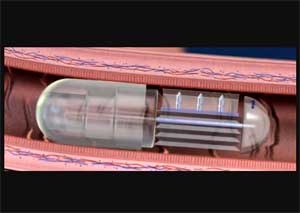 There is hardly anyone for whom injection is not painful.In addition to this, it is not a convenient way of drug administration but they are the most effective form of drug delivery for certain kinds of treatments, including those for chronic conditions like diabetes, psoriasis, arthritis, and others.But what if pills could eventually replace the needle altogether?A startup company has devised a robotic pill that moves through the stomach, causing the outer case to dissolve in the small intestine and delivering an injection unaffected by gastric Juice straight into the intestinal wall.
Rani Therapeutics has developed a novel method which is an approach for the oral delivery of large drug molecules including peptides, proteins, and antibodies. They are currently in pre-clinical studies and have demonstrated greater than 50% bioavailability. Rani's approach involves delivering an injection straight into the intestinal wall, which the company's CEO Mir Imran describes as "pain-free."
A valve releases, fusing two previously separated chemicals to form carbon dioxide. That generates the necessary force to inject a needle-like structure made of sugar into the intestinal wall. That needle will then dissolve naturally, said Imran.
The company's technology is not currently used by patients, as it is still in the pre-clinical trials phase and has not yet been tested on humans.If Rani's platform proves successful in human trials, it could be a significant advance for patient comfort (and, in turn, help improve drug regimen compliance). Many of the best-selling treatments around, such as AbbVie's Humira (the top selling medication in the world), currently involve injections.
The company has raised $53 million in a new funding round to finance broader manufacturing of its tech as the firm prepares to move into human clinical trials. Investors include big pharma mainstays like Novartis, AstraZeneca, and Shire, in addition to Google parent Alphabet's venture arm GV, among others.
An essential element of the digital health revolution is a shifting drug delivery landscape and companies are trying to figure out how to make proven drugs even more effective and easier to use than the present available options, including through implants, patches, and other technologies.