Rivaroxaban not superior to Aspirin in Prevention of Stroke recurrence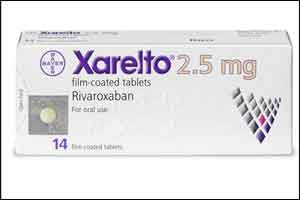 Rivaroxaban, an oral factor Xa inhibitor, was found no superior to aspirin in lowering the risk of recurrent stroke after an initial embolic stroke, according to a recent study published in NEJM. Further, Rivaroxaban was found more associated with higher risk of bleeding.
Embolic strokes of undetermined source represent 20% of ischemic strokes and are associated with a high rate of recurrence. An embolic stroke occurs if a blood clot that forms elsewhere in the body breaks loose and travels to the brain via the bloodstream. When the clot lodges in an artery and blocks the flow of blood, this causes a stroke. This is a type of ischemic stroke.
R.G Hart et.al conducted a study to compare the efficacy and safety of rivaroxaban (at a daily dose of 15 mg) with aspirin (at a daily dose of 100 mg) for the prevention of recurrent stroke in patients with recent ischemic stroke that was presumed to be from cerebral embolism but without arterial stenosis, lacune, or an identified cardioembolic source.
A total of 7213 participants were included in the study and were divided into two groups.3609 patients were randomly assigned to receive rivaroxaban and 3604 received aspirin. Patients were followed for 11 months when the trial was terminated early because of a lack of benefit with regard to stroke risk and because of bleeding associated with rivaroxaban.
The study found that the primary efficacy outcome occurred in 172 patients in the rivaroxaban group and in 160 patients in the aspirin group. Recurrent ischemic stroke occurred in 158 patients in the rivaroxaban group and in 156 in the aspirin group. Major bleeding occurred in 62 patients in the rivaroxaban group and in 23 in the aspirin group.
The study concluded that treatment with Rivaroxaban did not result in the lower rate of stroke recurrence than aspirin among patients with recent ischemic stroke who had made criteria for an embolic stroke of an undetermined source. Rivaroxaban was also not found to have secondary efficacy outcome benefits as the risk of recurrent ischemic stroke was approximately 5% per year in each treatment group.
The study was published in the journal NEJM
Source : With Inputs from New England Journal of Medicine