Rivaroxaban as good as LMW Heparin for reducing VTE recurrence in cancer patients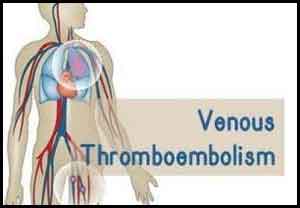 Rivaroxaban, a direct oral anti-coagulant (DOAC) was associated with relatively low Venous thromboembolism (VTE) recurrence but higher clinically relevant nonmajor bleeding(CRNMB)compared with dalteparin, a low-molecular-weight heparin, in many but not all patients with active cancer, according to the results of SELECT-D trial published in the Journal of Clinical Oncology.
Annie M.Young and his associates conducted a study to obtain estimates of the VTE recurrence rates in patients with cancer treated with rivaroxaban or dalteparin. The study was a multicentered, randomized, open-label, pilot trial involving 406 patients with active cancer who had symptomatic pulmonary embolism (PE), incidental PE, or symptomatic lower-extremity proximal deep vein thrombosis (DVT). The participants were randomly allocated to dalteparin (200 IU/kg daily during month 1, then 150 IU/kg daily for months 2-6) or rivaroxaban (15 mg twice daily for 3 weeks, then 20 mg once daily for a total of 6 months).
The primary endpoint was VTE recurrence over 6 months. Secondary outcomes were major bleeding and clinically relevant nonmajor bleeding (CRNMB). All patients were assessed at 3-month intervals until month 12 and then at 6-month intervals until month 24.
Major findings:


Twenty-six patients treated with dalteparin (n = 18) or rivaroxaban (n = 8) experienced a recurrent VTE within the first 6 months after random assignment, including two patients with symptomatic PE and six with incidental PE receiving dalteparin, compared with two symptomatic and one incidental PE in those receiving rivaroxaban.


The cumulative VTE recurrence rate at 6 months was 11% for patients receiving dalteparin and 4% for patients receiving rivaroxaban.


Six patients receiving dalteparin had major bleeds, compared with 11 patients in the rivaroxaban arm.


The cumulative major bleed rate at 6 months was 4% for dalteparin and 6% for rivaroxaban.


Patients with esophageal or gastroesophageal cancer tended to experience more major bleeds with rivaroxaban than with dalteparin—four (36%) of 11 versus one (11%) of 19.


An additional seven patients receiving dalteparin had CRNMB compared with 25 patients in the rivaroxaban arm.


The cumulative rate of CRNMB at 6 months was 4% for dalteparin and 13% for rivaroxaban. Most CRNMBs were GI or urologic.


Overall survival at 6 months was 70% with dalteparin and 75% with rivaroxaban.


The study concluded that the results of the trial provide evidence that rivaroxaban is an effective alternative to LMWH for the treatment of VTE in cancer. However, Rivaroxaban reduced the rate of recurrent VTE compared with LMWH, at the cost of more bleeding. The authors suggested that the oral administration of anticoagulant is more convenient than daily subcutaneous injections but should be used with caution in patients with oesophagal cancer.
Source : With inputs from the Journal of Clinical Oncology