Rituxan major advancement in the treatment of Severe Pemphigus Vulgaris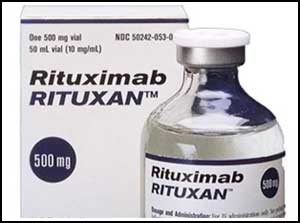 Rituxan (rituximab; Genentech and Biogen) was approved by the Food and Drug Administration (FDA) for the treatment of adults with moderate to severe pemphigus vulgaris (PV). Pemphigus vulgaris is a rare chronic blistering skin disease and the most common form of pemphigus. These blisters are due to acatholysis or breaking apart of intercellular connections through an autoantibody-mediated response. Over time the condition inevitably progresses without treatment: lesions increase in size and distribution throughout the body, behaving physiologically like a severe burn.
Rituxan is the first biologic therapy approved by the FDA for PV and the first major advancement in the treatment of the disease in more than 60 years. The FDA previously granted Priority Review, Breakthrough Therapy Designation, and Orphan Drug Designation to Rituxan for the treatment of PV but Rituxan is now approved to treat autoimmune diseases.
Rituxan got its approval from FDA based on data from the Ritux 3 trial, which was a Roche-supported, randomized, controlled trial. The studies compared the Ritux 3 regimen (EU-approved rituximab product plus short-term corticosteroids [CS]) to CS alone as a first-line treatment in patients with newly diagnosed moderate to severe pemphigus. The primary endpoint of the study was complete remission at month 24 without the use of steroids for two or more months.
The study found that 90 percent of PV patients treated with the Ritux 3 regimen met the endpoint, compared to 28 percent of PV patients treated with CS alone.
The study concluded the efficacy of Rituxan in treating patients with moderate to severe PV while tapering off of CS therapy. The results of the trial were published in The Lancet in March 2017.
"Today's decision by the FDA provides the first approved treatment option in more than 60 years for patients with pemphigus vulgaris, a potentially life-threatening disease," said Sandra Horning, M.D., chief medical officer and head of Global Product Development. "We are pleased to offer Rituxan as a new and effective therapy to patients with this serious condition."
The direct effects of rituximab include complement-mediated cytotoxicity and antibody-dependent cell-mediated cytotoxicity, and the indirect effects include structural changes, apoptosis, and sensitization of cancer cells to chemotherapy.
Rituxan, a CD20-directed cytolytic antibody, is also approved for rheumatoid arthritis, microscopic polyangiitis,non-Hodgkin's lymphoma, chronic lymphocytic leukemia, and Wegener's granulomatosis.
Adverse effects caused by Rituxan are:


Infusion Reactions


Severe Skin and Mouth Reactions


Hepatitis B Virus (HBV) Reactivation


Progressive Multifocal Leukoencephalopathy (PML)


The drug is supplied in 100mg/10mL and 500mg/50mL single-use vials.