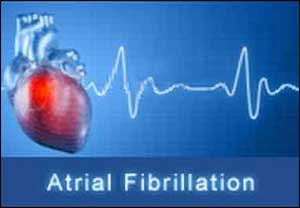 A new study finds that continuing an antiplatelet agent beyond 1 year after stenting may be safer for anticoagulated atrial fibrillation patients.
The study is presented at Transcatheter Cardiovascular Therapeutics meeting and simultaneously published in the journal Circulation.
Yukiko Matsumura-Nakano,  Department of Cardiovascular Medicine, Graduate School of Medicine, Kyoto University, Japan, and colleagues evaluated oral anticoagulation (OAC) alone without antiplatelet therapy (APT) in patients with atrial fibrillation (AF) and stable coronary artery disease (CAD) beyond 1 year after coronary stenting in this open-label OAC-ALONE trial.
The primary endpoint was a composite of all-cause death, myocardial infarction (MI), stroke, or systemic embolism. The major secondary endpoint was a composite of primary endpoint or major bleeding according to the International Society on Thrombosis and Haemostasis (ISTH) classification. Although the trial was designed to enroll 2,000 patients during 12 months, enrollment was prematurely terminated after enrolling 696 patients in 38 months.
Mean age was 75.0±7.6 years, and 85.2% of patients were men. OAC was warfarin in 75.2% and direct oral anticoagulants in 24.8% of patients.
Also Read: Edoxaban more beneficial than Warfarin in patients with atrial fibrillation
Key Findings:
Among patients receiving oral anticoagulation alone, the combined risk of death, MI, stroke, or systemic embolism past the first year post-stenting was significantly higher than in patients continuing a single antiplatelet agent — aspirin or clopidogrel (Plavix) — plus oral anticoagulant treatment.
That composite primary endpoint rate was 15.7% in the 54-patient oral anticoagulation alone group versus 13.6% in the 47 combined therapy group patients, which did not meet criteria for noninferiority.
Net clinical effect — pooling the efficacy findings and major bleeding — did meet noninferiority, due to a trend for more major bleeding in the combined therapy group (by TIMI criteria 8.4% vs 4.9%, P=0.07).
 MI occurred in 8 (2.3%) and 4 (1.2%) patients, while stroke or systemic embolism occurred in 13 (3.8%) and 19 (5.5%) patients, respectively.
Major bleeding occurred in 27 (7.8%) and 36 (10.4%) patients, respectively.
Among patients randomized to oral anticoagulation alone after 1-year post-stenting, 75% took warfarin and 25% were on a newer oral anticoagulant (NOAC).
In the group randomized to continue their single platelet agent beyond that point, aspirin was that agent for 86% and clopidogrel in 14%
"This study suggests that we probably can stop one of the two [antiplatelet agents] and get by with a single agent," commented Morton Kern, MD, of the University of California Irvine and a panelist at a press conference for the late-breaking clinical trial session at which the results were discussed.

"I don't think anybody is quite comfortable yet to not give either aspirin or aspirin and clopidogrel," he added, "but we do want to reduce the triple-drug [use]."
Guidelines and expert consensus recommend oral anticoagulation alone as the default, based on observational data, to limit the risk of bleeding in afib patients, Gilles Lemesle, of Centre Hospitalier Universitaire de Lille, France, wrote in an accompanying Circulation editorial.
"These tantalizing observations do not settle the issue of which strategy should be considered as default in clinical practice (and for which patients) but will be useful in planning future trials," said Lemesle.
"This randomized trial did not establish non-inferiority of OAC alone to combined OAC and APT in patients with AF and stable CAD beyond 1 year after stenting," concluded the authors.
"Because patient enrollment was prematurely terminated, the study was underpowered and inconclusive. Future larger studies are required to establish the optimal antithrombotic regimen in this population."
For further reference follow the link: https://doi.org/10.1161/CIRCULATIONAHA.118.036768