Rise in Haemodialysis cases- Peritoneal Dialysis could be a solution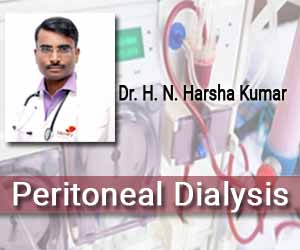 Chronic Kidney Disease (CKD) is a major cause of mortality and morbidity in India. In India, the approximate prevalence of End-Stage Renal Disease (EDSR) is around 150-200 patients per million population. Among the various modalities of treatment for ESDR in India, Haemodialysis comes first, followed by Renal Transplant and Peritoneal Dialysis at a distant third. At present roughly 1.3 lakh patients are on hemodialysis in India. Although Peritoneal Dialysis was first introduced in India in the year 1991, only about 8,500 patients are on peritoneal dialysis in our country.
Peritoneal Dialysis (PD) is a form of Renal Replacement therapy for patients suffering from Chronic Renal Failure. It is a home-based treatment which the patient can manage on his/her own after adequate training. In Peritoneal Dialysis, the peritoneal membrane in the abdomen itself acts as a dialysis membrane and helps clear uremic waste product, excess water along with correcting the electrolyte disturbance and acid content in the blood. Peritoneal dialysis is as efficient as hemodialysis.
ADVANTAGES OF PERITONEAL DIALYSIS


Peritoneal dialysis is home-based and does not require frequent visits to the hospital, so there is no risk of bloodborne diseases like hepatitis B and C.


The procedure is painless and does not require frequent fistula needle insertions.


It's very effective for cardiac patients who have frequent hemodynamic instability during hemodialysis and patients who have vascular access issue on hemodialysis.


There is better preservation of residual renal function and less risk for graft rejection if the patient goes for renal transplant in the future.


TYPES OF PERITONEAL DIALYSIS
In Peritoneal dialysis, a catheter is inserted in the peritoneum of abdomen laparoscopically and outlet of the catheter is placed either right or left side of the abdomen just above the beltline. Accordingly, Peritoneal dialysis is of three types - Continuous Ambulatory Peritoneal Dialysis (CAPD), Automated Peritoneal Dialysis (APD) and Hybrid Peritoneal Dialysis (HPD).


Continuous Ambulatory Peritoneal Dialysis (CAPD): In CAPD, Dialysate solution of volume between 1 to 3 liters is inserted through this catheter for a period of 3 to 5 hours and then allowed to drain. The process of input and draining roughly take 10 to 15 minutes per session. In CAPD, on an average, 3 to 5 sessions are done per day depending on the requirement of the patient and characteristics of the patient's peritoneal membrane. During the dwell period, when dialysate fluid is present in the abdomen, the patient can normally carry out his day-to-day activities without any hindrance.


A major drawback of Continuous Ambulatory Peritoneal Dialysis is that it has to be done daily 3 to 4 times per day, needs dedication and compliance from the patient as well as the attending family member, as this treatment must be undergone for a long period of time.


Automated Peritoneal Dialysis (APD): In APD, the patient catheter is connected to a machine when he goes to sleep for the night. The machine automatically performs 3-6 time exchanges for peritoneal dialysate during the night for a period of 7 to 10 hours. This can be disconnected in the morning after the patient wakes up so that he/she can resume normal activities during day time.


Hybrid Peritoneal Dialysis: In HPD, a combination of - APD performed at night, and one or two sessions of CAPD performed during the day, is followed.


SOME COMPLICATIONS THAT MIGHT ARISE OUT OF PERITONEAL DIALYSIS
Some of the complications from Peritoneal dialysis are Peritonitis, mechanical blockage of catheter, high blood sugar, bleeding in abdomen, bowel perforation, weight gain, hernia, Hypertriglyceridemia, fluid retention and in very rare case - Encapsulating Sclerosing Peritonitis, in which, bowels of the abdomen get obstructed due to a thick layer of fibrin adhesion between the peritoneum. However, with proper training and a hygienic method of performing Peritoneal dialysis, the risk of peritoneal infections is minimal.
WHY PERITONEAL DIALYSIS IS IMPORTANT IN INDIA
The monthly cost of peritoneal dialysis in India is almost equal to or less than hemodialysis. Peritoneal dialysis needs to be promoted in a country like India where existing Haemodialysis centers are not able to meet the ever-increasing cases of chronic renal failure. It is particularly useful for CKD (chronic kidney disease) patients living in remote areas who have to travel a long distance frequently to undergo hemodialysis.
The government should seriously consider including 'Peritoneal Dialysis first' policy in its National Dialysis service program, as the cost of setting up and maintaining hemodialysis centers is higher when compared to Peritoneal Dialysis. To summarize, Peritoneal Dialysis is a cost-effective, simple, efficient method of renal replacement therapy that is ideal for a developing country like India which faces a high burden of Chronic Renal Failure cases.
Dr. H. N. Harsha Kumar is a Consultant Nephrologist & Transplant Physician at Kauvery Hospital – Hosur.
At present roughly 1.3 lakh patients are on hemodialysis in India. Dr. H. N. Harsha Kumar, Consultant Nephrologist & Transplant Physician at Kauvery Hospital explains how to manage the rise in Haemodialysis cases and how peritoneal dialysis could be a solution