................................ Advertisement ................................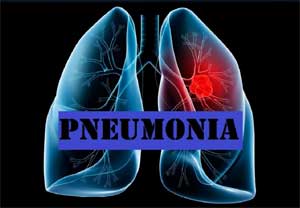 Riociguat use is unsafe and may increase mortality in pneumonia-associated pulmonary hypertension finds a Lancet study.
The treatment of pulmonary hypertension associated idiopathic interstitial pneumonia (PH-IIP) with riociguat is associated with an increased risk of adverse events, mortality and an unfavourable risk-benefit profile, according to a recent study published in The Lancet Respiratory Medicine. Riociguat fails to improve pneumonia-associated pulmonary hypertension
The international, multicenter, double-blind, randomized, placebo-controlled phase 2b trial had to be terminated early due to a higher incidence of deaths, serious adverse events and adverse event-related drug discontinuations in patients treated with riociguat (Adempas, Bayer) vs. placebo.
................................ Advertisement ................................
Findings from the RISE-IIP trial demonstrate that riociguat should not be used in patients with PH-IIP.
Idiopathic interstitial pneumonia is often complicated by pulmonary hypertension, increasing morbidity and mortality. There are no approved treatments for pulmonary hypertension associated with idiopathic interstitial pneumonia (PH-IIP). Steven D Nathan, Department of Medicine, Falls Church, and colleagues evaluated the efficacy and safety of riociguat in patients with PH-IIP.
................................ Advertisement ................................
The trial enrolled 229 participants (aged 18-80 years) between June 4, 2014, and May 5, 2016, from across 65 pulmonary hypertension and interstitial lung disease centers in 19 countries. The patients were diagnosed with idiopathic interstitial pneumonia. They were randomly allocated in 1:1 ratio using an interactive voice and web response system to riociguat (0·5–2·5 mg three times daily) or placebo for 26 weeks (main study), after which they could enter an open-label extension in which all patients received riociguat.
Out of 229 participants, 82 participants were excluded and, 147 were randomly allocated to treatment (73 to riociguat, 74 to placebo).
The primary endpoint was change in 6-min walking distance (6MWD) in the intention-to-treat population. Prespecified safety variables included adverse events and serious adverse events, laboratory parameters, and adverse events of special interest (hemoptysis and symptomatic hypotension), assessed in the intention-to-treat population.
................................ Advertisement ................................
Key findings include:
During the main study, most patients in the

riociguat

(65 of 73 patients) and placebo (64 of 74 patients) groups experienced an adverse event.

The most common adverse events included peripheral edema (22% in the riociguat group vs. 9% in the placebo) and diarrhea (15% vs. 9%).

Serious adverse events were more common in the riociguat group than in the placebo group (37% vs. 23%), including worsening of

interstitial lung disease

(8% vs. 7%) and

pneumonia

(5% vs. 1%).

Study discontinuation due to the frequency of adverse events was also more common in the riociguat group than in the placebo group (15% vs. 4%).

During a long-term, open-label extension phase in which all patients switched to riociguat after 26 weeks, adverse events leading to study discontinuation occurred more often in patients switching from placebo to riociguat (11% vs. 3%).

Also during the main study, 11 patients died, including three in the placebo group and eight in the riociguat group. During the long-term extension phase, nine patients who had received riociguat including eight in the former placebo group and one in the riociguat group died.

In terms of efficacy, the researchers observed no improvements in 6-minute walk distance at 26 weeks with riociguat when compared with placebo.
"The findings demonstrated that in patients with PH-IIP, riociguat was associated with increased serious adverse events and mortality, and an unfavorable risk-benefit profile. Riociguat should not be used in patients with PH-IIP," concluded the authors.
"Idiopathic interstitial pneumonia, especially idiopathic pulmonary fibrosis, are frequently accompanied by treatment-refractory, WHO group III pulmonary hypertension, and these patients are more likely to have a poor prognosis over time compared with patients whose disease course is not complicated by pulmonary hypertension. Although the antifibrotic agents pirfenidone and nintedanib substantially improve lung function decline in patients with idiopathic pulmonary fibrosis and might benefit patients with non-idiopathic forms of pulmonary fibrosis, the search for a beneficial agent that ameliorates pulmonary hypertension that can arise in patients with idiopathic interstitial pneumonia has yet to find an effective pharmacotherapy," Keith C Meyer, University of Wisconsin School of Medicine and Public Health, Madison, WI, USA, writes in an accompanying editorial.
To read the complete study log on to https://doi.org/10.1016/S2213-2600(19)30250-4
Author Details
Medha Baranwal joined Medical Dialogues as an Editor in 2018 for Speciality Medical Dialogues. She covers several medical specialties including Cardiac Sciences, Dentistry, Diabetes and Endo, Diagnostics, ENT, Gastroenterology, Neurosciences, and Radiology. She has completed her Bachelors in Biomedical Sciences from DU and then pursued Masters in Biotechnology from Amity University. She has a working experience of 5 years in the field of medical research writing, scientific writing, content writing, and content management. She can be contacted at medha@medicaldialogues.in. Contact no. 011-43720751
To know about our editorial team click here
................................ Advertisement ................................