Rifampin reduces amputation and death risk in diabetic foot osteomyelitis, finds JAMA study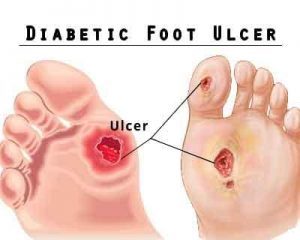 USA: Diabetic foot osteomyelitis (DFO) patients when treated with rifampin experience lower risk of death and amputation than those not treated with rifampin, according to a recent study published in the JAMA Network Open journal.
Osteomyelitis (OM) is a common complication of diabetic foot ulcers and/or diabetic foot infections. It refers to the inflammation or infection of the bone and bone marrow. It is frequently underdiagnosed and missed in patients with diabetic foot problems. The amputation risk in acute diabetic infections is four times higher with OM than with soft tissue infection alone. Also, the presence of OM warrants a longer duration of antibiotic therapy and a longer duration of hospital stay, raising the hospitalization costs for DFO patients.
Rifampin has unique antimicrobial properties making it a useful adjunctive therapy for osteomyelitis. Biofilms in osteomyelitis also contribute to the therapeutic challenge of osteomyelitis. Bacteria in biofilms respond poorly to standard antimicrobial therapy. But here, rifampin has an advantage, it penetrates biofilms and retains activity within them. Also, rifampin demonstrates potent activity against persister cells in biofilms that exceed that of any other currently available antibiotic
Brigid M. Wilson, Research Service, and Geriatric Research, Education, and Clinical Center (GRECC), VA Northeast Ohio Healthcare System, Cleveland, and colleagues compared the clinical outcomes of patients for DFO in the Veterans Health Administration (VHA) with without adjunctive rifampin.
The researchers used VHA databases to identify index DFO cases from January 1, 2009, through December 31, 2013. Patients were analyzed live and without high-level amputation at 90 days after diagnosis in whom antibiotic therapy was initiated within 6 weeks of diagnosis. The study excluded patients with death or major amputation within 90 days of diagnosis who were not treated with systemic antibiotics dispensed by the VHA within 6 weeks of diagnosis, or who were treated at facilities where rifampin was not dispensed for DFO.
The analysis patients included 130 patients who were initiated rifampin therapy within 6 weeks of the DFO diagnosis and received the drug for at least 14 days within 90 days of diagnosis. They were considered treated with rifampin. 6044 patients not administered rifampin within 90 days of diagnosis served as the comparator group.
Read Also: Amoxicillin‐clavulanate combo effective in diabetic foot infections
Key findings of the study include:


Lower event rates were observed among the rifampin group (35 of 130 [26.9%] vs 2250 of 6044 [37.2%]).


Patients treated with rifampin were younger (mean [SD] age, 62.2 [9.4] vs 64.9 [9.6] years), had fewer comorbidities (mean [SD] Charlson comorbidity index score, 3.5 [1.8] vs 4.0 [2.2]), had more infectious disease specialty consultations (63 of 130 [48.5%] vs 1960 of 6044 [32.4%]), and more often had Staphylococcus aureus identified in cultures (55 of 130 [42.3%] vs 1755 of 6044 [29.0%]) than patients not treated with rifampin.


A logistic regression estimating the odds of events and controlling for these and other covariates yielded a significant association of rifampin (odds ratio, 0.65).


Read Also: Rifampin Effective for Latent Tuberculosis in Children-NEJM
"The findings, when coupled with existing evidence from small clinical trials suggest that rifampin addition to current treatment regimens for DFO may be a useful antimicrobial option," concluded the authors.
The study, "Adjunctive Rifampin Therapy For Diabetic Foot Osteomyelitis in the Veterans Health Administration," is published in the JAMA Network Open journal.
DOI:
10.1001/jamanetworkopen.2019.16003
Source : JAMA Network Open