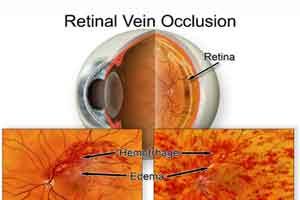 Retinal vein occlusion (RVO) is the second most common retinal vascular disorder following diabetic retinopathy and is often associated with vision loss. Retinal vein occlusion occurs when there is a partial or complete obstruction of a retinal vein, and it is classified by the location of the occlusion. An obstruction of the retinal vein at or posterior to the optic nerve head is referred to as a central retinal vein occlusion (CRVO), and a complete or partial obstruction at a branch or tributary of the central retinal vein is referred to as a branch retinal vein occlusion (BRVO).
In year of 2015, the American Academy of Opthalmology came up with the preferred practice guidelines on Retinal Vein Occlusions.
Following are the major findings of the guidelines:
The prognosis of retinal vein occlusions (RVOs) varies according to the site of the occlusion and the degree of occlusion (ischemic or nonischemic). In general, more-distal RVOs with less occlusion have a better prognosis than more-proximal RVOs with greater ischemia.
Central retinal vein occlusions (CRVOs) and hemi-CRVOs behave similarly. They are often associated with glaucoma and have a higher risk of anterior segment neovascularization and neovascular glaucoma. Branch retinal vein occlusions (BRVOs) and hemiretinal vein occlusions ([HRVOs], which are distinct from hemiCRVOs) have a visible arterial-venous crossing where the occlusion occurs. They are more commonly associated with systemic hypertension, diabetes, and lipid disorders, and they are more likely to lead to retinal neovascularization.
Macular edema may complicate both CRVOs and BRVOs. The safest treatment for the associated macular edema is the use of antivascular endothelial growth factors (anti-VEGFs). Intravitreal corticosteroids, with the associated risk of glaucoma and cataract formation, have demonstrated efficacy. Also, laser photocoagulation in BRVO has a potential role in treatment.
Risk factors for vein occlusions include systemic medical conditions, such as systemic arterial hypertension, diabetes, and lipid and coagulation disorders. Thus, communication with the patient's primary care provider to help coordinate care is important.
Optimizing control of systemic arterial hypertension, diabetes, serum lipid levels, and intraocular pressure (IOP) to control glaucoma are all important in the management of systemic risk factors, as is communicating end-organ damage to the primary care provider.
To read full guidelines click on the following link:
http://www.aaojournal.org/article/S0161-6420(15)01267-1/pdf