Retinal detachment increases with increasing degree of myopia, Study finds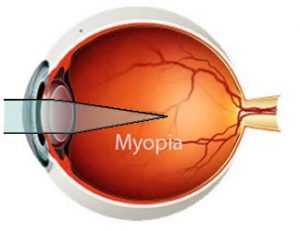 Indian researchers in a study have found that lesions like staphyloma and retinal detachment increased with increasing degree of myopia.
Dr Pavan Kumar Verkicharla, Scientist at Myopia Research, L V Prasad Eye Institute, Hyderabad and colleagues conducted a retrospective study aimed to investigate the patterns of myopic fundus complications in Indian children and young adults. The results of Study have appeared in Scientific Reports.
Myopia has become an epidemic worldwide with a steep increase in the incidence of myopia in the last few decades. According to a meta-analysis published in 2017, the estimated its pool prevalence to be 24.2% (95% CI, 3.3% to 44.8%) in children younger than 20 years and about 30% in adults older than 40 years in an Asian population.
The complications of myopia occur due to ocular stretching, and with the evidence that the ocular shape can be different among different ethnic groups, it is possible that myopia related pathologic lesions may vary with different ethnic groups. Most of the studies investigated pathologic myopia in older adults, but not in children and young adults who when identified at an early age, can provide some insights into management options.
The researchers analyzed the electronic medical records of 29,592 patients, aged 10–40 years, who visited L V Prasad Eye Institute from 1st January to 31st December 2016. Various parameters such as age, gender, refractive error and various pathologic lesions of the posterior globe were considered for analysis. It was found that among all the patients with different types of refractive errors, myopia was to the extent of 47.4%, high myopia in 6.8% and pathologic myopia in 2.2%.
Also, there was no trend of the increased prevalence of pathologic myopia with increasing age, except for a significant difference between the children aged 10–15 years (2.7%) and those aged more than 15 years (>4%). Although the overall pattern of pathologic lesions was similar across different grades (2.5% in low myopes vs. 2.2% in severe myopes), lesions like staphyloma and retinal detachment increased with increasing degree of myopia.
Major findings from this study are:


The pathologic myopia estimate in Indian myopes is similar to that of other Asian countries and myopia/its progression in India should be considered seriously. About four out of 100 myopes had some sort of posterior ocular lesions that is of concern.


Various pathologic lesions associated with myopia were found across all grades of myopia (and in all age groups), with more serious lesions like retinal detachment are seen mostly in high myopes.


As these lesions are mostly located in the periphery of the eye, findings from our study indicate the necessity for regular and careful peripheral fundus examinations irrespective of degree of myopia/age for better management and prognostic purposes.


The indoor-centric lifestyle of Indian children of this generation may result in an epidemic of high myopia in India similar to what happened in China or Singapore few decades ago. It is high time for all parents and children to be aware of myopia and take necessary steps in combating the same.


The researchers concluded that the proportion of pathologic lesions across different grades of myopia suggests the necessity for careful peripheral fundus examinations irrespective of its degree for better management and prognostic purposes.
Prevalence of myopia in Indian children a decade ago based on two publications was 4.1% in a rural population and 7.4% in urban population which increased to 13.1% in the year 2015. The prevalence and patterns of pathologic myopia manifestation in children and young adults in the Indian population remain unclear
For reference log on to https://www.nature.com/articles/s41598-018-29536-x
Source : With inputs from the journal Scientific Reports