Researchers Develop First Blood Test for Melanoma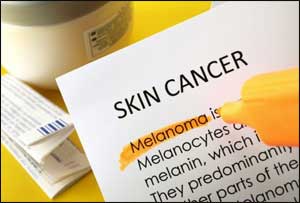 In a major breakthrough, researchers have developed the world's first blood test that could detect melanoma in its early stage raising a new hope for the survival of millions of lives, according to a study published in the journal Oncotarget.
The new blood test to detect melanoma, a life-threatening skin cancer, could be used as a powerful weapon by the healthcare providers to diagnose it at a very early stage before it spreads throughout the body.
Pauline Zaenker and her associates conducted a trial to identify antibodies to a panel of tumor-associated antigens that can differentiate primary melanoma patients and healthy individuals. At present biopsy is done to detect melanoma.
The researchers collected 245 samples which comprised a total of 124 early-stage melanoma patients and 121 healthy controls. The blood sample was obtained from all 245 study participants. For the majority of patients, the sample was obtained within 1 month of patient primary tumor diagnosis and excision while some samples were obtained within a maximum of 3 months of diagnosis.
Read ALso: Daily aspirin linked to higher Melanoma risk in men
The study identified a combination of 10 autoantibody biomarkers that, as a panel, displayed a sensitivity, specificity, and an area under the curve of 79%, 84%, and 0.828, respectively, for primary melanoma detection.
Autoantibodies (AAbs) may be considered to be a more advantageous blood-based biomarker because they indicate an initial humoral immune response against a tumor. As a result, they are more produced and their level increases which can be detectable even years before the clinical evidence of a primary tumor.
"The body starts producing these antibodies as soon as melanoma first develops which is how we have been able to detect cancer in its very early stages with this blood test," Ms. Zaenker said. "No other type of biomarker appears to be capable of detecting cancer in blood at these early stages," she added
According to the authors, the melanoma autoantibody signature may prove valuable for the development of a diagnostic blood test for routine population screening that, when used in conjunction with current melanoma diagnostic techniques, could improve the early diagnosis of this malignancy and ultimately decrease the mortality rate of the patient.
For reference log on to
https://doi.org/10.18632/oncotarget.25669
Source : With inputs from the journal Oncotarget