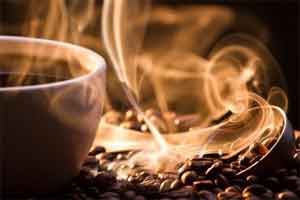 Caffeine is the most widely consumed psychoactive substance in the world. According to a new observational study, Regular Coffee consumption increases pain threshold and may increase the ability to withstand pain.
Dr 
conducted the study to evaluate the potential impact of habitual dietary caffeine consumption on the experience of pain. The study has appeared in Journal Psychopharmacology.
Researchers recruited 62 men and women, ages 19 to 77, and had them record their daily caffeine intake from coffee, tea, soda, energy drinks and chocolate. They averaged 170 milligrams of caffeine a day, about the amount in two cups of coffee, although 15 per cent of the group consumed more than 400 milligrams a day.  On the seventh day of caffeine consumption monitoring, participants presented to the laboratory to complete experimental pain sensitivity testing. Noxious thermal and mechanical stimuli were used to obtain threshold and tolerance for painful heat and pressure, respectively.
Calibrated devices were used that gradually increased heat or pressure on a volunteer's forearm or back. The people pressed a button on a hand-held device first when the sensation became painful, and then again when it became intolerable.
The experiment controlled for sex and race, current tobacco use and alcohol consumption, among other variables that could affect pain sensation.
The researchers found that the more caffeine consumed, the greater the tolerance for pain.
"Diet can actually be a useful intervention for decreasing pain sensitivity," said the lead author, Burel R. Goodin, an associate professor of psychology at the University of Alabama at Birmingham. "It's not just caffeine. A study has shown, for example, that a plant-based diet can actually help increase pain tolerance."
For further reference log on to :

https://link.springer.com/article/10.1007/s00213-018-5016-3