Regular Aspirin Use Slows COPD Progression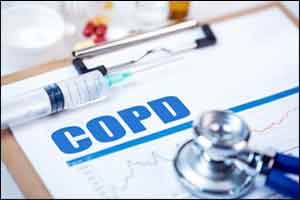 Dr.Carrie P. Aaron and associates in a longitudinal analysis of data from a large lung study have found that regular aspirin use was found to be associated with a more than 50% reduction in emphysema/chronic obstructive pulmonary disease (COPD).The study has been published in the journal Chest.
The researchers in an elderly cohort over a decade enrolled 4,257 participants from the MESA Lung Study. The Multi-Ethnic Study of Atherosclerosis (MESA) is a prospective cohort study that recruited 7 6814 participants in 2000-02 from six U.S. communities who were ages 45-84 years and free of clinical cardiovascular disease. The MESA Air Pollution Study recruited an additional 257 participants under the same criteria in 2004-07. The MESA Lung Study enrolled 3965 MESA participants in 2004-06 (at visits 2 and 3),25 10 all MESA Air participants at one site, and an additional 410 MESA participants in 2010-12 .All participants provided written informed consent.
The primary exposure was regular use of aspirin at baseline, defined as use of any aspirin dose 3 or more days per week, as even 81mg every 3 days inhibits platelet activation. Additional analyses evaluated any aspirin use at baseline, regular aspirin use at each visit, time-variant aspirin use, and doses of 81mg and 300-325mg. Their mean (±SD) age was 61±10 years, 54% were ever-smokers, and 22% used aspirin regularly.
The researchers found that-


On average percent emphysema increased 0.60 percentage points over 10 years (95% CI 0.35 to 0.94).


Progression of percent emphysema was slower among regular aspirin users compared to non-aspirin users (fully adjusted model: -0.34% per 10 years, 95% CI -0.60 to -0.08; P=0.01).


Results were similar in ever-smokers and for doses of 81 mg and 300-325 mg. A greater magnitude effect was seen among participants with airflow limitations.


No association was found between aspirin use and change in lung function.


The authors concluded that regular aspirin use was associated with a slower progression of the percent of the emphysema-like lung on CT over 10 years in this general population sample. These findings suggest that further studies of platelet activation and aspirin in COPD and emphysema may be warranted.
For further reference log on to :
http://journal.chestnet.org/article/S0012-3692(17)33210-5/pdf