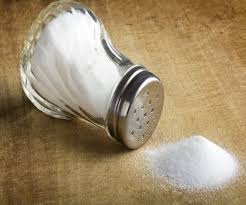 According to a new study Reducing salt intake to very low levels increases the risk of Cardiovascular Diseases and mortality risk.
Moderate intake of sodium may have a beneficial role in cardiovascular health but may have potentially harmful effects when intake is very high or very low, according to the findings of an ongoing study published in the journal The Lancet.
The World Health Organization (WHO) guideline recommends that sodium consumption be lower than 2 g/day (equivalent to 5 g/day of salt, or 1 teaspoon), though the American Heart Association goes further and recommends an upper threshold of 1.5 g/day.
Drastic reductions in salt consumption may not be beneficial and might cause harmful effects. The findings deviate from the current guideline recommendations to dramatically lower salt intake in the general population.
Sodium intake was associated with cardiovascular disease and strokes only in communities where mean intake was greater than 5 g/day. Therefore a strategy should be formulated to reduce sodium in these communities and countries but not in others might be appropriate.
The study also suggests that too much salt in the diet is not a widespread global problem, though some populations which consume very high levels of salt would likely benefit from curbing salt.
The Prospective Urban Rural Epidemiology study is ongoing in 21 countries. Eligible participants included in the study were adults aged 35–70 years without cardiovascular disease, sampled from the general population. The investigators used morning fasting urine to estimate  24 h sodium and potassium excretion as a surrogate for intake. The researchers assessed community-level associations between sodium and potassium intake and BP in 369 communities (all >50 participants) and cardiovascular disease and mortality in 255 communities (all >100 participants), and used individual-level data to adjust for known confounders.
95 767 participants in 369 communities were assessed for BP and 82 544 in 255 communities for cardiovascular outcomes with follow-up for a median of 8·1 years.

The new results from PURE study offer no support for very low sodium levels recommended in the guidelines but they do support more moderate reductions from very high levels. An increased cardiovascular risk was only observed in communities where the average intake was greater than 5 g/day. But only about 5% of people in developed countries have sodium intake over 5 g/day. The study found no increase in risk in the communities with sodium levels between 3-5 g/day.
Read also: Increased salt intake leads to increased risk of death
It was also found that even in communities with high sodium intake over 5 g/day there was no increase in risk if the community also consumed sufficient amounts of potassium.
"We found all major cardiovascular problems, including death, decreased in communities and countries where there is an increased consumption of potassium which is found in foods such as fruits, vegetables, dairy foods, potatoes and nuts, and beans," said Mente, the lead author of the study.
Martin O Donnell, a co-author of the paper, said that the findings "demonstrate that community-level interventions to reduce sodium intake should target communities with high sodium consumption, and should be embedded within approaches to improve overall dietary quality. There is no convincing evidence that people with moderate (average) sodium intake need to reduce their sodium intake, for the prevention of heart disease and stroke."
The authors concluded that though low sodium intake does reduce blood pressure, at very low levels but it may also have other effects, including adverse elevations of certain hormones associated with an increase in the risk of death and cardiovascular disease.
For reference log on to The Lancet