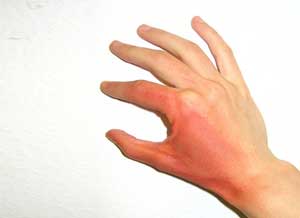 The U.S. Food and Drug Administration (FDA) approved  Premarket Approval (PMA) application to market the RECELL® Autologous Cell Harvesting Device (RECELL® System) severe thermal burn treatment in patients 18 years and older, announced AVITA Medical, a global regenerative medicine company. A low-cost spray-on skin treatment uses a patient's own skin cells to quickly and efficiently restore and regrow skin on burn victims.
In the United States, about half a million people seek medical treatment for their burns each year. The most traditional form of treatment came in the form of skin grafts. The Recell autologous cell harvesting device is designed to use the patient's own skin to prepare Spray-On Skin™ Cells at the point of care in as little as 30 minutes, providing a new way to treat thermal burns.
In most burn scenarios, skin grafts can require more skin than a patient anticipates. There's also nerve damage along with damaging skin and muscle tissues. ReCell reduces the amount of healthy skin that gets damaged during a skin graft by 97 percent for a second-degree burn, accordng to company spokesperson.
The two randomized, controlled clinical trials supporting the FDA approval demonstrated that treatment of acute burn wounds with the RECELL System required substantially less donor skin than required with conventional split-thickness autografts to achieve closure of burn wounds. Reduction in donor skin requirements provides key clinical benefits to patients and significant reductions in the cost of treatment.
In the first trial, the patient-donor skin required to treat second-degree burn sites with the RECELL System was 97.5% less than the amount harvested using standard-of-care. The second trial demonstrated that the patient-donor skin required to treat third-degree burn sites with the  RECELL System was 32% less than that required with standard-of-care. At Week 8 post-treatment, 92% of the burn sites treated with RECELL System achieved complete healing vs 85% of sites treated with standard-of-care, demonstrating non-inferiority.
The RECELL System is approved to be used at the point of care by trained healthcare professionals to treat adult patients with severe thermal burns. The RECELL System can be used alone in the treatment of partial-thickness burns, or in combination with autografting for the treatment of full-thickness burns.
Read Also: A case of burn due to 'Garlic'"
Approval of the RECELL System is a significant advancement in how we treat patients with burns," said James H Holmes IV, MD. "Dramatically reducing the amount of donor skin needed to treat second- and third-degree burns has important implications for pain, scarring and costs of care, while still providing comparable healing to the current standard of care. Additionally, the potential reduction in mortality is extremely promising."

A small skin sample is collected and immersed in the Company's proprietary Enzyme solution in the RECELL System to separate the skin cells to produce Spray-On Skin Cells. The resultant Regenerative Epidermal Suspension™ (RES™) includes keratinocytes, fibroblasts, and melanocytes, which play a critical role in wound healing. The suspension is then sprayed directly onto the prepared burn wound, providing a broad and even distribution of live cells across the entire wound bed. The RECELL System can be used to prepare enough RES™ to treat a wound up to 80 times the size of the donor skin sample, so a skin sample approximately the size of a credit card can be used to treat a wound that covers a patient's entire back.
The Company expects to formally launch the RECELL System in the U.S. in the fourth calendar quarter of 2018.