RCOG Guidelines on management of suspected Preterm Prelabour Rupture of Membranes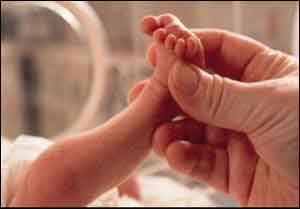 The Royal College of Obstetricians and Gynaecologists RCOG has released Guidelines on the management of preterm prelabour rupture of membranes. The guidelines have appeared in BJOG, International Journal of Obstetrics and Gynaecology.
Preterm prelabour rupture of membranes (PPROM) complicates up to 3% of pregnancies and is associated with 30–40% of preterm births. PPROM can result in significant neonatal morbidity and mortality, primarily from prematurity, sepsis, cord prolapse and pulmonary hypoplasia. In addition, there are risks associated with chorioamnionitis and placental abruption.
The median latency after PPROM is 7 days and tends to shorten as the gestational age at PPROM advances.
This guideline comprises recommendations relating to the diagnosis, assessment, care, and timing of the birth of women presenting with suspected PPROM from 24+0 to 36+6 weeks of gestation. It also addresses care in a subsequent pregnancy. An infographic and audio version to supplement this guideline are available online (Infographic S1, Audio S1). It supplements NICE guideline (NG25), Preterm labour and birth (published November 2015). Relevant recommendations can also be found in the Royal College of Obstetricians and Gynaecologists (RCOG) Green‐top Guideline [GTG no. 36], Early‐onset of Group B Streptococcal Disease.
Identification and assessment of the evidence
The Cochrane Library and electronic databases (DARE, EMBASE, Trip, MEDLINE and PubMed) were searched looking for the following terms in the title or abstract 'preterm prelabour rupture of membranes', 'amnioinfusion', 'chorioamnionitis,' 'intra‐amniotic infection', 'IGFBP‐1', 'PAMG‐1', 'amniocentesis', 'antenatal corticosteroids' and 'tocolytics'. The search was restricted to articles published until January 2019. The full search strategy is available to view online as supporting information (Appendix S1 and S2).
Following are the major recommendations:


The diagnosis of spontaneous rupture of the membranes is made by maternal history followed by a sterile speculum examination demonstrating liquor


If, on speculum examination, no amniotic fluid is observed, clinicians should consider performing an IGFBP‐1 or PAMG‐1 test of vaginal fluid to guide further management


The role of ultrasound assessment of amniotic fluid volume is unclear


A combination of clinical assessment, maternal blood tests (C‐reactive protein and white cell count) and fetal heart rate should be used to diagnose chorioamnionitis in women with PPROM; these parameters should not be used in isolation


Women should be advised of, and observed for, symptoms of clinical chorioamnionitis (lower abdominal pain, abnormal vaginal discharge, fever, malaise and reduced fetal movements)


Neonatologists should be informed when the diagnosis of PPROM is confirmed and delivery is anticipated


Women with PPROM should have the opportunity to meet with a neonatologist antenatally to discuss their baby's care


Erythromycin should be given for 10 days following the diagnosis of PPROM, or until the woman is in established labour (whichever is sooner)


In women who have PPROM from 24 +0 weeks, antenatal corticosteroids should be:




offered between 24+0 and 25+6 weeks of gestation


offered between 26+0 and 33+6 weeks of gestation


considered between 34+0 and 35+6 weeks of gestation




In women who have PPROM and are in established labour or having a planned preterm birth within 24 hours, intravenous magnesium sulfate should be offered between 24+0 and 29+6 weeks of gestation


Tocolysis in patients with PPROM is not recommended


The decision to offer outpatient care to women with PPROM should be made on an individual basis, taking into account markers of delivery latency


The optimal method of monitoring to predict adverse fetal outcome after PPROM has not been determined


In PPROM, amnioinfusion is not recommended as part of routine clinical practice


Women with PPROM and their partners should be offered additional emotional support during pregnancy and postnatally.


Women whose pregnancy is complicated by PPROM after 24 +0 weeks' gestation and who have no contraindications to continuing the pregnancy should be offered expectant management until 37 +0 weeks; timing of birth should be discussed with each woman on an individual basis with careful consideration of patient preference and ongoing clinical assessment


The care of women with PPROM who are known to be colonised with group B streptococcus, is addressed in Green‐top Guideline No. 36


In a subsequent pregnancy following PPROM, women should be cared for by an obstetrician with an interest in preterm birth


For more details click on the link: https://doi.org/10.1111/1471-0528.15803