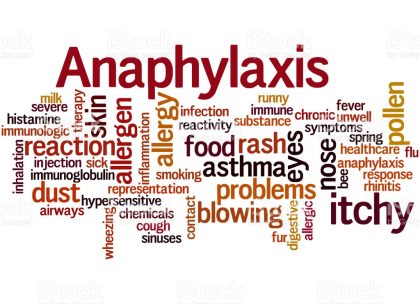 Anaphylaxis in the operating room is a life-threatening drug reaction that happens suddenly, without warning and can affect anyone. It is important to recognize it promptly because low blood pressure, impaired circulation and lack of oxygen in the lungs combine may lead to shock which in extreme cases rapidly progresses to cardiac arrest or even death.
The Royal College of Anaesthetists RCoA has undertaken largest prospective study of anaphylaxis1 related to anaesthesia and surgery. The findings have highlighted new trends in the drugs causing anaphylaxis and emphasized need for changes to hospital procedures and training n addition to better reporting and investigation of incidents.
The Key Findings of Study are-
266 cases of life-threatening perioperative anaphylaxis were studied in depth over one year from all National Health Service hospitals.
The estimated risk of life-threatening anaphylaxis is therefore 1 in 10,000 operations.
10 patients (3.8%) patients who developed anaphylaxis died as a result.
Antibiotics are identified as an increasing problem. They were the cause in nearly half of all cases (48%). Neuromuscular blocking agents (muscle relaxants) were the culprit in a third of cases (33%).
Other key triggers were chlorhexidine (an antiseptic) (9% of reactions), and Patent Blue dye which is used to identify lymph vessels during breast surgery (4.5%).
The antibiotic teicoplanin is used for patients describing penicillin allergy but was found to have a 17-fold higher risk of causing anaphylaxis than penicillins. It accounted for 12% of antibiotic uses but caused 38% of antibiotic-induced anaphylaxis.
Resuscitation by anaesthetists was good, though the report recommended cardiac compressions (CPR) should be used more often than at present.
Reporting of perioperative anaphylaxis to the UK regulatory system is poor, occurring in fewer than one in four cases.
Only 16% of patients were seen in an allergy clinic within the ideal 6-week wait time. In nearly a quarter of cases, the 18-week target for appointments was breached.
Adherence to guidelines for investigating anaphylaxis was low. Allergy clinic investigation was judged 'poor' four times more often than it was judged 'good'.
Key Recommendations for preventing and tackling Anaphylaxis-
Changes in surgical procedures, specifically antibiotics should be administered while the patient is awake and can communicate any adverse effects.
Better recording of allergy histories before anaesthesia and formal allergy tests for some patients prior to routine surgery.
Better training of anaesthetic teams to enable them to quickly identify and treat anaphylaxis.
Better communication with patients by anaesthetists and allergy clinic doctors.
Investment and expansion of perioperative allergy clinics.
Increased reporting of perioperative anaphylaxis to the UK regulator.
Improved involvement of independent sector hospitals in national audits and registries.
For further reference log on to :
http://www.nationalauditprojects.org.uk/NAP6Report