Praxbind (idarucizumab)-Specific reversal agent for Dabigatran approved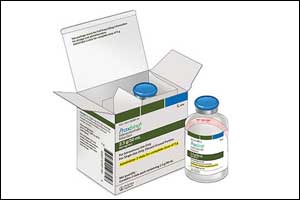 Praxbind (idarucizumab), the specific reversal agent for Pradaxa (dabigatran etexilate mesylate) received full approval by the U.S. Food and Drug Administration (FDA), as announced by the pharmaceutical company Boehringer Ingelheim. With this, Praxbind becomes the first and only specific reversal agent for a novel oral anticoagulant (NOAC) that has been approved by the FDA.
Praxbind is a monoclonal antibody that reverses the anti-coagulant effects of Pradaxa. It is indicated for the patients that have been administered with Dabigatran and need the reversal of its anticogulant effects in case of emergency surgery/urgent procedures or in life-threatening or uncontrolled bleeding.
Accelerated approval was already being granted to Praxbind by FDA in
October 2015, based on the
with results from the phase III RE-VERSE AD™ trial, the largest study to investigate a reversal agent for a NOAC. The final results of RE-VERSE AD were published in the
New England Journal of Medicine
in
July 2017
, and showed that Praxbind immediately reversed the anticoagulant effect of Pradaxa. The majority of patients had complete reversal of anticoagulation within four hours as measured by ecarin clotting time (ECT 82%) or diluted thrombin time (dTT 99%).In the RE-VERSE AD study, no adverse safety signals were observed and there was a low rate of thrombotic events. In clinical studies.
About Praxbind (idarucizumab)Indications And Usage

Praxbind (idarucizumab) is indicated in patients treated with Pradaxa when reversal of the anticoagulant effects of dabigatran is needed:


For emergency surgery/urgent procedures


In life‐threatening or uncontrolled bleeding


Safety Information About Praxbind
Warning and PrecautionThromboembolic Risk


Dabigatran-treated patients have underlying diseases predisposing them to thromboembolic events. Reversing dabigatran therapy exposes patients to thrombotic risk. Consider resumption of anticoagulant therapy as soon as medically appropriate.


Re-elevation of Coagulation Parameters


Elevated coagulation parameters (eg, activated partial thromboplastin time or ecarin clotting time) have been observed in a limited number of PRAXBIND-treated patients. If reappearance of clinically relevant bleeding together with elevated coagulation parameters is observed, or if patients requiring a second emergency surgery/urgent procedure have elevated coagulation parameters, an additional full dose may be considered.


Hypersensitivity Reactions


There is insufficient clinical experience evaluating risk of hypersensitivity to idarucizumab, but a possible relationship could not be excluded. Risk of hypersensitivity (eg, anaphylactoid reaction) to idarucizumab or excipients needs to be weighed cautiously against the potential benefit. If serious allergic reaction occurs, immediately discontinue PRAXBIND and institute appropriate treatment.


Risk in Patients With Hereditary Fructose Intolerance


PRAXBIND contains 4 g sorbitol as an excipient. When prescribing PRAXBIND in patients with hereditary fructose intolerance, consider the total daily amount of sorbitol/fructose consumption from all sources, as serious adverse reactions (eg, hypoglycemia, hypophosphatemia, metabolic acidosis, increase in uric acid, acute liver failure, and death) may occur.


ADVERSE REACTIONS


The most frequently reported adverse reaction in ≥5% of idarucizumab-treated healthy volunteers was headache (5%). The most frequently reported adverse reactions in ≥5% of patients were constipation (7%) and nausea (5%).


Treatment-emergent antibodies with low titers were observed in 4% of healthy subjects and 2% of patients treated with idarucizumab.


USE IN SPECIFIC POPULATIONS
Pregnancy and Lactation


PRAXBIND should be given to a pregnant woman only if clearly needed. Caution should be exercised when PRAXBIND is administered to a nursing woman.