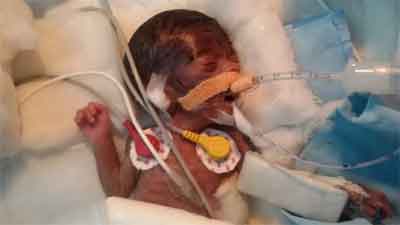 Udaipur: In an extremely rare surgery, the Doctors at Geetanjali Medical College and Hospital and Jeevanta Hospital successfully performed a heart surgery on the world's smallest baby, weighing at just 470 grams.
As per reports, the baby boy, who was born prematurely at about 28 weeks (5.5 months) is believed to be the world's tiniest baby . The infant underwent a Patent Ductus Arteriosus, or PDA corrective operation, 15 days after his birth. Patent ductus arteriosus is a heart defect caused by problems in the heart's development. As per reports, his eyes hadn't opened, lungs weren't developed, skin resembled parchment paper, too fragile and delicate to touch, and he had heart complications.
With the tiniest size of the infant, the doctors used the small and tiny instruments for this procedure. Moreover, the operation was itself performed in the NICU (neonatal intensive care unit) as shifting him seemed too risky.
Dr Sanjay Gandhi, cardiovascular surgeon, who performed the operation said it was a difficult task for us at the baby was so tiny.  "The baby weighed merely 470 grams at birth and was just the size of a palm. Operating on an infant, especially when he is so tiny, is very challenging and risky as the body parts are extremely premature. There were many risks involved like respiratory distress syndrome, brain/lungs internal bleeding, feeding intolerance, developmental problems, etc., and above all survival rate upto 55% only."
It is reported that the mother of this baby conceived  this child through IVF procedure. The baby, who was delivered by lower segment caesarean section (LSCS) procedure, developed breathing difficulties immediate after his birth and was placed under the expert care.
Dr Sunil Jangid, chief neonatologist and paediatric intensivist, said, 'Normally the connection between the arteries remains till the foetus is in mother's womb.
"It automatically disconnects after childbirth. If it doesn't, it has to be treated with medicines. In this case, when the infant didn't respond to medicines, heart surgery was the last option."
The child is now recovering well and his parents are happy with his recovering process.