Rare Rupture Pregnancy Reported: Baby feet hanging out of the uterus of the mother
A latest case published in New England Journal Of Medicine reports a case of a rare rupture pregnancy where the legs of a developing fetus ripping through the mother's uterine wall. The case being extremely rare, is indeed making headlines all over the world, with originally being reported from France.
"I was astonished when I discovered the amniocele," Pierre-Emmanuel Bouet, the OB/GYN at the Angers University Hospital in France and the lead author of the report, wrote in an email to The
Washington Post
, referring to the portion of the fluid-filled sac that had ventured outside the woman's uterus. He looked for a second opinion: "My first reaction was to ask my colleagues to confirm my diagnosis."
Indeed the authors pointed out the extreme rarity of the case, with only 26 such cases being reported in the literature till now.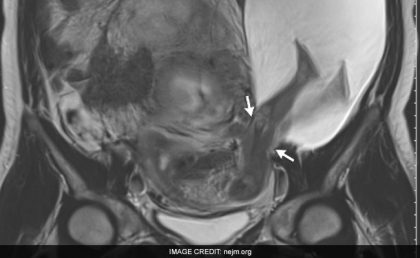 A fetus' legs protruding from the womb.
The patient , A 33-year-old asymptomatic woman had presented at 22 weeks of gestation with a large herniation of the amniotic sac through the left uterine wall that was detected by routine ultrasonography.
The patient had a history of five previous C-sections through a transverse incision of the lower uterine segment and no previous vaginal deliveries.
MRI at 22 weeks showed a 2.5-cm rupture of the left uterine wall (arrows) and a large amniocele that measured 19 cm by12 cm by 9 cm and contained fetal legs. The doctors informed the patient about risk of the pregnancy, advising close monitoring.
Another ultrasound at 30 weeks showed the uterine dehiscence had extended 5 cm and the herniated sac had grown and included the fetal abdomen and legs. The patient went for a c-section, delivering a healthy baby. Post delivery the left posterior uterine rupture and large amniocele were identified and repaired noted the NEJM report, with the patient soon being discharged from the hospital. The baby is healthy at 6 months, adds the report.
You can read the full report by clicking on the following link
http://www.nejm.org/doi/full/10.1056/NEJMicm1603843
Source : with inputs