Rare presentation of renal cell cancer as dysphagia: Case report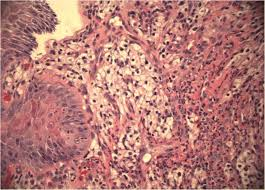 Dr Manmeet S. Padda at Gastroenterology and Hepatology, DHAT, Scott and White Baylor Medical Center, McKinney, TX, USA and colleagues have reported a rare case of renal cell cancer presenting as dysphagia. The case has appeared in the Journal of Medical Case Reports.
Metastasis from distal solid organs to the esophagus is very rare. Renal cell cancer with esophageal metastasis is extremely rare.
A 56-year-old Caucasian man presented for evaluation of intermittent dysphagia to solids for the past few weeks. He had no significant past medical history. He had the sensation of food getting stuck in substernal area. Otherwise, he reported good appetite and no weight loss. A physical examination revealed a well-nourished man with no palpable mass or lymph nodes. An abdominal examination revealed no localized tenderness or organomegaly. No family history of stomach or colon malignancy was reported. An esophagogastroduodenoscopy (EGD) examination revealed a single 6 mm nodule at GEJ and Los Angeles grade A (less than 5 mm mucosal breaks) distal esophagitis. A pathology examination from the GEJ nodule showed squamous mucosa with mucosal ulcer and associated acute and chronic inflammatory infiltrates. Nests of atypical cohesive cells with clear cytoplasm, and mild nuclear pleomorphism were noted in submucosa. Multiple immunostains were performed to further characterize atypical cells with following staining pattern: vimentin (+), PAX-8 (+), CD10 (focally and weakly positive), and epithelial membrane antigen (EMA; focally and weakly positive). These cells were negative for RCC, thyroid transcription factor 1(TTF1), S100 protein, CD68, cytokeratin 5/6, pancytokeratin, p63, cytokeratin 7 and 20, p40, and pan melanoma marker. Histological features and staining patterns were consistent with atypical clear cell infiltrate involving squamous mucosa, which was consistent with metastatic RCC. A computed tomography study of his chest, abdomen, and pelvis performed with orally and intravenously administered contrast showed unremarkable esophagus and no mediastinal lymphadenopathy.
A solid-appearing, partially exophytic mass involving his superior left kidney was seen. The renal mass measured 5.8 × 5.3 cm. The mass was heterogenous and displaced portions of upper pole. The mass was abutting the inferior aspect of his spleen, but a thin fat plane separating his spleen from the mass was seen. A small 0.6 cm gastrohepatic lymph node was seen which radiologically appeared benign. A positron emission tomography (PET) scan with 16 mCi of 18-flurodeoxyglucose showed a left upper pole renal mass measuring 5 cm with standardized uptake value (SUV) of 3, suspicious for renal malignancy. No other abnormal uptake was seen to suggest metastatic disease or lymphadenopathy. A pathology conference and expert opinion concluded that the GEJ nodule biopsy was consistent with metastatic renal clear cell carcinoma (Fuhrman grade 2) involving esophageal mucosa with erosion. Clear cell morphology showed sharp cell borders and lack of glands or mucin, consistent with RCC. A multidisciplinary conference recommended left renal nephrectomy. Our patient underwent left radical nephrectomy and path showed clear cell RCC, with no sarcomatoid features, Fuhrman nuclear grade 3. Resections margins were negative and no involvement of adrenal gland was noticed. Endoscopic submucosal dissection of area of GEJ nodule was performed, which showed squamous and gastric-type mucosa with chronic inflammation and underlying adipose tissue in submucosa, negative for malignancy. He has been doing well clinically for the past 16 months, after left nephrectomy. Oncology services recommended close surveillance and conservative management after long discussion with our patient and other consultants.
For more details click on the link:
https://doi.org/10.1186/s13256-018-1967-6