Rare presentation of Fabry disease as ventricular tachycardia: EHJ Case Report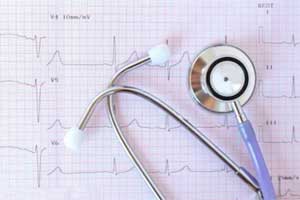 A case report published in the European Heart Journal Case Reports, reports the case of a man with Fabry disease, presented with the symptoms of ventricular tachycardia. Fabry disease is an inherited rare metabolic disease caused by a mutation in the GLA gene, encoding lysosomal enzyme alpha-galactosidase A.
The disorder is a systemic disease that manifests as cerebrovascular and cardiac disease, chronic renal failure, skin lesion, peripheral neuropathy, and other abnormalities. Ventricular tachycardia as a Fabry disease presentation is very rare.
The case in question is of a 36-year-old man who self-presented to a general practitioner complaining of episodes of shortness of breath together with a 6-month history of malaise. The 12-lead electrocardiogram (ECG) prompted a decision to transfer him immediately to a percutaneous coronary intervention (PCI) capable hospital under the suspicion of acute coronary syndrome.

Whilst awaiting transport, he experienced acute onset of dyspnoea together with non-specific chest heaviness. A repeat ECG monitor strip showed ventricular tachycardia transforming to ventricular fibrillation. The patient was successfully defibrillated. Coronary angiography was performed upon arrival at the hospital and demonstrated unobstructed coronary arteries.

Transthoracic echocardiography revealed concentric left ventricular hypertrophy (LVH) and normal systolic function, with severe diastolic dysfunction. MRI confirmed the LVH, and did not demonstrate any late gadolinium enhancement.
"There are variable aetiologies of LVH in early adulthood. Our case illustrates the pivotal role of critical clinical thinking in the diagnosis of rare but treatable hereditary cardiomyopathy.22 The uncommon cardiac presentation of Fabry disease promotes further research linking different phenotypes of Fabry disease with different pathogenic mutations," the authors conclude, adding that "genetic and molecular diagnosis is necessary for the confirmation of Fabry disease. In clinically unaffected individuals, there is an increased risk based on family history. Knowing the disease-causing mutation allows one to determine or exclude carriers. When a carrier status is diagnosed, family planning and prenatal diagnosis are enabled."

For more details click on the link: https://doi.org/10.1093/ehjcr/yty154
Source : With inputs from European Heart Journal Case Reports