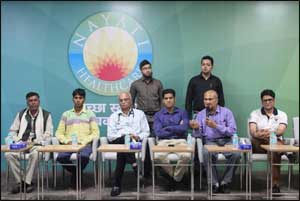 Nayati Medicity achieves yet another milestone in the history of medical surgery by successfully performing rare Whipple's surgery on a road traffic accident victim in Mathura. 20 year old, Balkrishna was brought in to the emergency unit of Nayati Medicity with severe abdominal injuries because of which the left lobe of his liver was shattered, his pancreas had ruptured into two parts in the pancreatic head area (complete laceration) with free-floating bile duct.
Dr. Yogesh Agarwala, Chairman, Centre of MAS, Bariatric & GI surgery, said "We are extremely happy to have saved a precious young life. Whipple's is typically a planned surgery which requires the high level of expertise, usually undertaken in cases of pancreatic cancer. It is rare and extremely complicated when done in emergency situations with other major injuries. Balkrishna suffered extreme trauma, impacting his liver and other vital organs, Whipple's surgery was the only option that could have saved his life. There are only a few cases of emergency Whipple's surgeries reported in medical literature worldwide.
Dr. Ajay Agarwal, HOD, Centre of MAS, Bariatric & GI surgery said "Balkrishna was admitted at Nayati Medicity with multi-organ injuries and profuse bleeding, he was in a state of shock because of which his blood pressure had dipped and reported weak pulse rate. The patient suffered the most severe abdominal injury. His vitals were stabilized in the emergency, investigated and shifted for immediate surgery.  We undertook a multidisciplinary approach and performed the surgery with a team of highly specialized doctors and took close to 4 hours to complete the surgery. After eight days of postoperative care, the patient is all set to return home".
Dr. R K Mani, CEO- Medical, Nayati Healthcare stated "It is extremely gratifying to see that our purpose of venturing into the region getting fulfilled. Nayati has established itself as a center of medical excellence with a team of some of India's top surgeons and clinicians, along with a complete range of diagnostics, technology, high-end ancillary experts and patient support system are available under one roof. The nayati team of doctors is amongst the best in the world and our technology is at par with global benchmarks. Our intent is to cater to a population which does not have the means to go for the expensive treatment and services available in the metros. I am humbled to see our vision unfold in the way we promised.