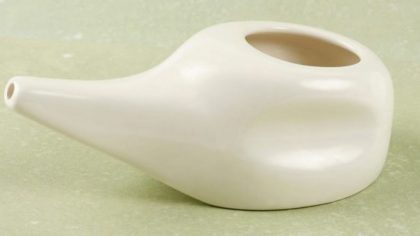 A gobsmacked case appeared in the International Journal of Infectious Diseases which showcased the death of a woman from a brain-eating amoeba after she ran tap water through her Neti pot to rinse her sinuses.
The patient was a 69-year-old woman with a distant history of breast cancer. One year prior to diagnosis of the brain infection, she had developed a chronic sinus infection. Otolaryngology suggested that the patient use a saline irrigation to clear her sinuses. While it is recommended that only sterile water or saline be used for these procedures, the patient used tap water.
After a month of using non-sterile water for nasal lavage without success, she developed a quarter-sized red raised rash on the right side of the bridge of her nose and raw red skin at the nasal opening, which was thought to be rosacea. Antibiotics were prescribed but provided no relief.
Then about 1 year after the initial development of the nasal rash, the patient was rushed to the hospital due to a left upper extremity focal seizure. The patient had remained conscious during the seizure but had lost cognition and experienced generalized left sided shaking.
A computed tomography (CT) scan with contrast of the head revealed a 1.5-cm ring-enhancing lesion in the motor cortex on the right side of the brain. The patient was evaluated and thought to potentially have a primary high-grade glioma since a systemic CT scan did not show evidence of metastatic disease.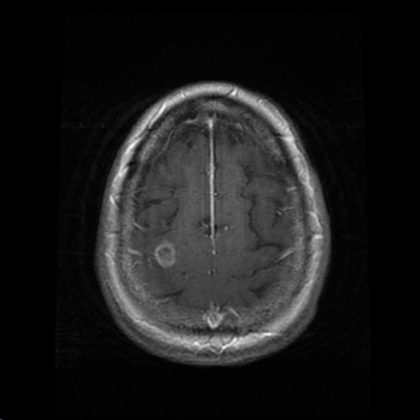 An MRI of the Seattle woman's brain in January 2018. Doctors initially thought the ringed lesion on the left was a tumor because the woman had a history of breast cancer. (Dr. Daniel Susanto / Swedish Medical Center)
She was taken to the operating room, at which time she underwent an open stereotactic-guided biopsy of the right frontal lesion. Doctors eventually realized the infection appeared to be an "amoebic" parasitic infection revealing B. mandrillaris as the definitive causative agent affecting the brain. The amoeba is similar to Naegleria fowleri, which has been the culprit in several high-profile cases.
The US Centers for Disease Control and Prevention was immediately administered the anti-amoeba drug miltefosine to try to save the woman's life, but she fell into a coma and died.

The clinicians informed that it was likely caused by the unsterilized tap water the woman used in her neti pot. The doctors emphasized that anyone developing a rash on or around their nose after using non-sterile water could be at risk of developing amoeba infections, which, as in this case, proved fatal.