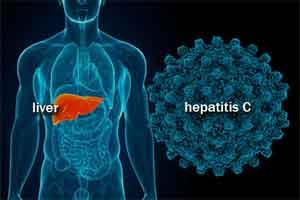 A previously healthy man aged 50 years presented with
Malaise,
Anorexia,
Abdominal pain,
Nausea & vomiting,
Generalised jaundice,
Scleral icterus and
Dark urine
He was not on any prescription or over-the-counter medications but reported drinking 4–5 energy drinks daily for 3 weeks prior to presentation. Physical examination revealed jaundice and right upper quadrant abdominal tenderness. Laboratory studies were remarkable for transaminitis and evidence of chronic hepatitis C infection. Ultrasound scan demonstrated an echogenic liver and diffuse gallbladder wall thickening. Liver biopsy showed severe acute hepatitis with bridging necrosis and marked cholestasis. The patient was treated supportively with complete resolution of his symptoms and marked improvement in his laboratory abnormalities. The development of acute hepatitis in this patient was likely secondary to excessive energy drink consumption. Energy drinks, as well as other herbal/over-the-counter supplements, should be considered by clinicians in the workup of patients with acute hepatitis, particularly once other aetiologies have been excluded.
For more details click on the link :
http://casereports.bmj.com/content/2016/bcr-2016-216612.short?g=w_casereports_top10_tab
The following two tabs change content below.
Dr. Kamal Kant Kohli
A Medical practitioner with a flair for writing medical articles, Dr Kamal Kant Kohli joined Medical Dialogues as an Editor-in-Chief for the Speciality Medical Dialogues. Before Joining Medical Dialogues, he has served as the Hony. Secretary of the Delhi Medical Association as well as the chairman of Anti-Quackery Committee in Delhi and worked with other Medical Councils of India. Email: drkohli@medicaldialogues.in. Contact no. 011-43720751
Latest posts by Dr. Kamal Kant Kohli (see all)