Rare case of voriconazole-induced Periostitis reported in NEJM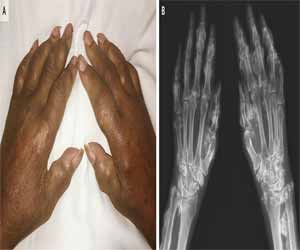 Dr Joshua Hedrick and Dr Nicole Droz, at Cleveland Clinic, Cleveland, OH have reported a rare case of Voriconazole-Induced Periostitis. The case has been published in New England Journal of Medicine.
Voriconazole is an antifungal medication used primarily for the treatment of Candida and Aspergillus infections. A fairly newly described side effect of long-term voriconazole use is periostitis.Voriconazole is commonly used in patients who have undergone lung transplantation, although patients with other solid organ transplants, bone marrow transplants, or other risk factors for chronic fungal infection may also require long-term use. Painful periostitis is a recognized, albeit rare, complication of long-term voriconazole therapy that has only recently been reported in the literature clinical presentation and bone scan may mimic diffuse osseous metastasis, potentially leading to unnecessary work-up or misdiagnosis.
According to history a 65-year-old woman who had undergone lung transplantation 8 years earlier was evaluated by the rheumatology service for progressive swelling in both hands and diffuse body pain. Since transplantation, the patient had received antifungal prophylaxis with daily voriconazole. On examination, there was prominent joint and soft-tissue swelling and pain in both hands (Panel A), restricted range of motion in both shoulders, and tenderness on palpation of the bony prominences of the shoulders, elbows, neck, lower back, and knees.
The alkaline phosphatase level was 742 U per liter (reference range, 34 to 123). Radiographs of the hands (Panel B) showed dense, irregular, nodular periostitis of the bones in her hands and wrists, a finding consistent with voriconazole-induced periostitis. Voriconazole is a trifluorinated antifungal medication; the mechanism of the periostitis is thought to be related to the effects of fluoride on bone. Voriconazole was discontinued in the patient. After consultation with the transplantation team, no further antifungal prophylaxis was initiated. At a 7-month follow-up visit, the pain had decreased, although limitations in range of motion and bony swelling of the hands persisted.
For more details click on the link:
DOI: 10.1056/NEJMicm1814565
Source : New England Journal of Medicine