Rare case of undiagnosed synovial hemangioma of the knee: a report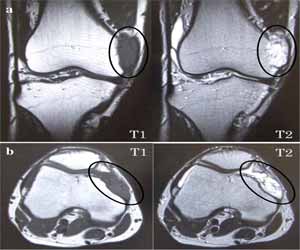 Dr Yasuaki Tohma at Department of Joint Surgery, Kawasaki Saiwai Hospital, Saiwai-ku, Kawasaki, Kanagawa, Japan and colleagues have reported a rare case of Undiagnosed synovial hemangioma of the knee.The case has appeared in the Journal of Medical Case Reports.
Synovial hemangioma of the knee is a rare benign tumor. Very rarely, the growth of bone is affected by long-term neglect of an intra-articular tumor. Our patient had not only various clinical symptoms but also dysplasia of the femoral bone. In this report, we aimed to raise awareness to prevent various disorders arising from an unnoticed or untreated hemangioma occurring within the knee joint.
The patient was a 41-year-old Japanese man who had had occasional discomfort in the right knee since elementary school. Although he had undergone radiography at several hospitals since childhood, no issues were reported; subsequently, he consulted our hospital. We performed magnetic resonance imaging and discovered a mass. The mass was homogeneous with low intensity on T1-weighted sequences and high intensity on T2-weighted sequences adjacent to the medial femoral condyle. The shape of the medial femoral condyle presented with a concavity in axial images, with irregular margins from the patellofemoral joint to the medial femoral condyle. Moreover, by using magnetic resonance angiography, we discovered a second mass. We decided to perform open surgery to achieve complete excision. Histological examination indicated a synovial hemangioma involving a cavernous hemangioma and irregular arteriovenous connections originating from the subsynovial tissue. The patient became asymptomatic after surgery, with no recurrence for more than 4 years.
Synovial hemangioma is rare and difficult to diagnose in outpatient examinations because radiography has a limited diagnostic capacity. Magnetic resonance imaging and angiography are very useful. Nontreatment of intra-articular hemangiomas may lead to dysplasia of the bone and various clinical symptoms. Early complete excision may be instituted to reduce these risks of hemarthrosis.
For more details click on the link:
doi: 10.1186/s13256-019-2107-7