................................ Advertisement ................................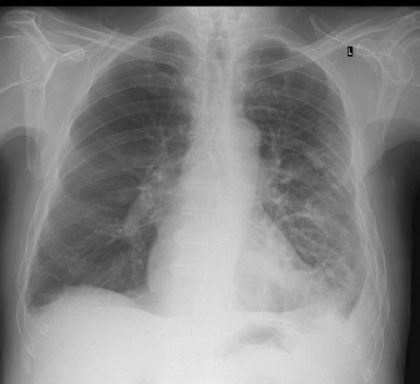 A  rare case of fulminant Pulmonary mucormycosis has appeared in European Journal of Case Reports in Internal Medicine. Dr Elena Koushiappi at Department of Respiratory Medicine, Nicosia General Hospital, Cyprus and colleagues have reported the case.
Mucormycosis (previously zygomycosis) is a rare life-threatening fungal infection that has been increasing in frequency in recent years mainly due to the increasing use of immunosuppressive and corticosteroid treatment. It is caused by fungi in the order of Mucorales, with most cases attributed to the genera of Rhizopus, Mucor, Lichtheimia and Rhizomucor.In previous decades, mucormycosis was associated with a very poor prognosis as mortality was approximately 100% which has slightly improved lately. 

A 76-year-old Caucasian man with known chronic obstructive pulmonary disease (COPD) stage D was admitted with worsening dyspnoea, productive cough with yellowish-brown sputum and haemoptysis. The patient had recently received oral corticosteroids for a COPD exacerbation. His past medical history included hypertension, diabetes mellitus type 2, atrial flutter and COPD requiring long-term oxygen therapy. He was a former smoker (100 pack years), did not consume any alcohol and had no known allergies.
................................ Advertisement ................................

Clinical examination revealed tachycardia, use of accessory muscles, pursed-lip breathing, a prolonged expiratory phase and reduced breath sounds on the left side. The patient was febrile with a Glasgow Coma Scale of 15/15, heart rate of 166 beats per minute and blood pressure of 120/85 mmHg. Initial investigations showed an elevated white blood cell (WBC) count of 25×109 (neutrophilia) and a C-reactive protein (CRP) of 143 mg/l.

The patient had presented with typical symptoms of an infective COPD exacerbation. The interesting aspects of the case were the absence of malignancy or immunosuppression, the isolation of Rhizomucor species, and the fungal invasion of the pleura and pericardium. Unfortunately, the patient died on the 49th day of hospitalisation, despite appropriate treatment.

Carry Home Points-

Pulmonary mucormycosis in patients with known respiratory disease may mimic an exacerbation of their lung disease, thus delaying diagnosis.

Pulmonary mucormycosis can complicate corticosteroid treatment in elderly individuals with other predisposing factors, which is an emerging clinical concern.

Pulmonary mucormycosis remains a potentially fatal disease, although early diagnosis and appropriate medical and surgical management can improve outcomes
Dr Kamal Kant Kohli-MBBS, DTCD- a chest specialist with more than 30 years of practice and a flair for writing clinical articles, Dr Kamal Kant Kohli joined Medical Dialogues as an Editor-in-Chief for the Speciality Medical Dialogues section. Besides writing articles, as an editor, he proofreads and verifies all the medical content published on Medical Dialogues including those coming from journals, studies,medical conferences,guidelines etc.
Before Joining Medical Dialogues, he has served at important positions in the medical industry in India including as the Hony. Secretary of the Delhi Medical Association as well as the chairman of Anti-Quackery Committee in Delhi and worked with other Medical Councils in India. Email: editorial@medicaldialogues.in. Contact no. 011-43720751
To know about our editorial team click here
................................ Advertisement ................................