Rare case of Penile gangrene in Diabetes with chronic renal failure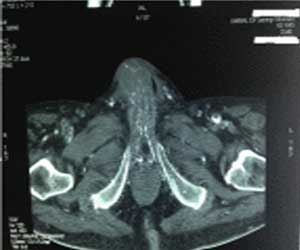 Dr
V.R.
Dunev at
Medical University Pleven, Bulgaria and colleagues have reported a rare case of Penile gangrene in chronic renal failure. The case has appeared in the
Journal of Urology Case Reports.
Penile gangrene is a disease difficult to be treated. Its genesis might be infectious, traumatic or vascular. Usually, diabetes mellitus causes vascular changes with subsequent vascular atherosclerosis and chronic renal failure.
The calcium-phosphate metabolism is disrupted by small cell vessel calcification in 1–4% of cases.

The authors report here a case of penile gangrene due to penile calciphylaxis in a patient with diabetes mellitus and chronic renal failure. Initially, the patient demonstrated dry gangrene of the glans penis, which turned to wet after partial amputation. The main cause of the gangrene was considered to be circulatory insufficiency induced by severe arteriosclerosis.
According to history, A 63-year-old male was admitted to the Clinic of Urology at Medical University Pleven. The patient had a 22-year history of type 2 diabetes mellitus. He had been on insulin therapy since 1998. He reported that at the age of 33 he had survived myocardial infarction. In March 2014, haemodialysis treatment was started because of end-stage renal failure caused by diabetic nephropathy. In 2010, 2012 and 2013, the thumb of his left leg, his right - and left lower leg were amputated, respectively due to diabetic gangrene. In September 2015, he noticed a painless spot on the glans penis, the size of a lentils grain, which gradually grew larger and turned from brown to black.
Amputation of the distal half of the penis was performed. Antimicrobial treatment according to the isolated microorganisms from the urine (E. Coli and E. faecium) was started. Seven days after surgery, wet gangrene, engaging the operative wound and the underlying skin of the scrotum, appeared
Major takeaway:-


Despite high mortality rate associated with ischaemic penile gangrene aggressive management is recommended for those who are not terminal.


Parathyroidectomy, low molecular heparin, and hyperbaric oxygen therapy are applied for the treatment of calciphylaxis and the hyperphosphatemia and hypocalcaemia correction.


The surgical management of ischemic penile gangrene is necrectomy and later plastic reconstruction of the affected area.


For more details click on the link:
https://doi.org/10.1016/j.eucr.2019.01.019