Rare case of Leptospirosis meningitis transmitted by pet mouse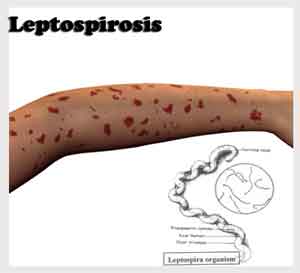 Dr Anne Christine Nordholm at Department of Infectious Diseases, Copenhagen University Hospital Rigshospitalet, Copenhagen, Denmark and colleagues have reported a rare Rare case of Leptospirosis meningitis transmitted by pet mouse. The case has appeared in the Journal of Medical Case Reports.
Leptospirosis is a re-emerging zoonosis with a worldwide distribution and a wide range of clinical manifestations. Leptospirosis is caused by Leptospira species, a group of spirochete bacteria with 29 described serogroups and more than 200 different Leptospira serovars. The incidence in Europe has recently been reported to be 0.13 per 100,000 inhabitants. The instant case of leptospirosis meningitis has been reported in a previously healthy woman infected by her pet mouse.
A 27-year-old Caucasian woman with pet mice presented to our institute with a 1-week history of fever, headache, myalgia, vomiting, diarrhoea, and dark urine. Her admission examination revealed neck stiffness, conjunctivitis, and icteric sclera. Her liver enzymes, bilirubin, white blood cell count, and C-reactive protein were elevated. Her cerebrospinal fluid showed an elevated white blood cell count. Polymerase chain reactions using her cerebrospinal fluid, blood, and urine showed negative results for leptospirosis, but the result of her microagglutination test was positive for Leptospira interrogans serovar sejroe with a more than threefold increase in paired sera. The patient was treated with ceftriaxone for 1 week, and her condition steadily improved.
Leptospirosis has a wide range of disease manifestations and may mimic many other infectious diseases, which could potentially lead to misdiagnoses or doctor's delay. This case report underlines that pet rodents may be sources of leptospirosis. Our findings emphasize that leptospirosis meningitis should be considered in patients with meningeal symptoms who have pet rodents. Obtaining a thorough medical history is essential, including information on animal exposure as well as establishing a timeline of the patient's symptoms in order to use the proper diagnostics at the right time.
For further reference log on to:
Journal of Medical Case Reports
Source : Journal of Medical Case Reports